War History online proudly presents this Guest Piece from Jeremy P. Ämick, who is a military historian and writes on behalf of the Silver Star Families of America.
Edwin Howland Blashfield possessed many talents and abilities, the most notable of which involved his creation of various murals that adorn the interior of state capitols and associated buildings throughout the United States. With a keen eye for both historic grandeur and symbolism, it is of little surprise that his reputation drew an interest from the Kansas City Chapter of the Daughters of the American Revolution  (DAR) during World War I.
A native of New York, the February 13, 1917, edition of the Kansas City Times reported that Blashfield visited "Kansas City to consider plans for murals here."
In her book aptly titled "Edwin Howland Blashfield: Master American Muralist," Mina Rieur Weiner wrote that Blashfield, an "exemplar and advocate of classic tradition in America, rose to prominence as a muralist during the 1893 World's Columbian Exposition in Chicago and the 1917 United States entry into World War I."
At the time of his visit to Kansas City, the artist had already begun documenting on canvas the war that embroiled much of Europe, having recently completed the painting referred to as "Sisters of Liberty," which "allegorically represented America, France, and Russia, the greatest Democratic nations of the world, all of whom shed their blood for freedom," reported the St. Louis Post-Dispatch on May 6, 1917.
The Kansas City Chapter of the DAR soon commissioned the artist to paint a mural in honor the citizens of Missouri who answered the nation's call to arms in the First World War. The result was a painting that measured 79-1/2 inches by 108 inches and, as described by the New York Times on June 16, 1918, served as a "historical outline of the development of the State."
The foreground features a woman symbolizing Missouri, seated and clad in armor while watching her sons depart for war. Further historical symbolism emerges with a group of trumpeters in the background, "representing Old France, Old Spain, and the Union and Confederate forces, while in the front of her is a figure in khaki representing the Union of the present time, sounding the call to arms," the New York Times further clarified.
"The idea that we should commemorate on canvas the veterans of World War I was really part of a larger cultural discourse of that period," said Derrick Cartwright, associate professor of art history and director of galleries for the University of San Diego.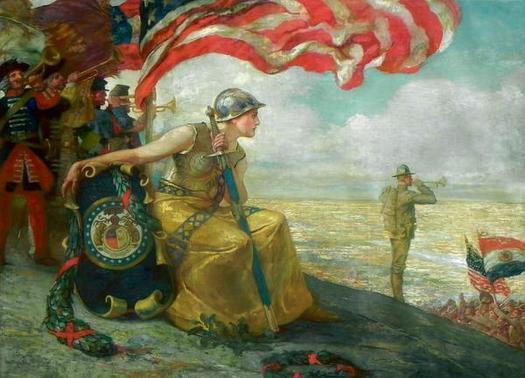 "In the early 1990s," Cartwright added, "I was writing my doctoral dissertation on murals in public libraries and that's when I discovered the Blashfield painting was one such mural that had essentially gone missing."