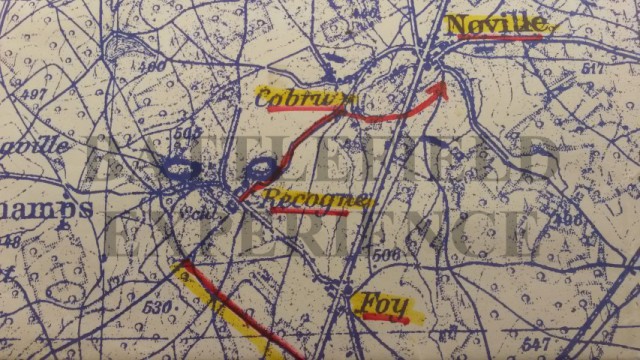 Maj. Richard Winters' notes from his last visit to Bastogne
BASTOGNE – Take it Easy!
Inspired by Dr. Stephen Ambrose's bestselling book and the successful HBO series Band of Brothers, many people have travelled the world following the footsteps of Easy Company, 506th Parachute Infantry Regiment in the European Theatre of Operations. By Reg Jans
Hence, the story of this rifle company has triggered the interest for future generations and motivated people of all ages to learn more about WWII History and the heroes from many other different units, who, seven decades ago, fought for a free world.
However, although Band of Brothers focuses on the men of Easy Company and their actions during World War Two, it does not give the reader/viewer a proper insight into the movements of these men and their actions/positions at the Battle of the Bulge. Because of this, misconceptions and assumptions have become a rule rather than a fact. Despite so much detailed info now in the public domain such as AAR's, Morning Reports, Scrapbooks and the outstanding book 'No Victory in Valhalla' by Ian Gardner, it is still a nightmare for travelers and history buffs alike to retrace the steps of Easy Company and to better understand what really happened to them.
Unintentionally misinformed, many still believe that the last attack on Foy was launched from the Bois Jacques and are therefore unaware as to the numerous other tactical movements that were necessary to defend Bastogne and the subsequent push-back attacks.
Alike the other allied troops that were deployed during the Battle of the Bulge, Easy Company endured the terrible weather conditions. Being short of ammo, warm clothing and decent food, they were all there for the same reason: To hold at all costs!
Continues on Page 2