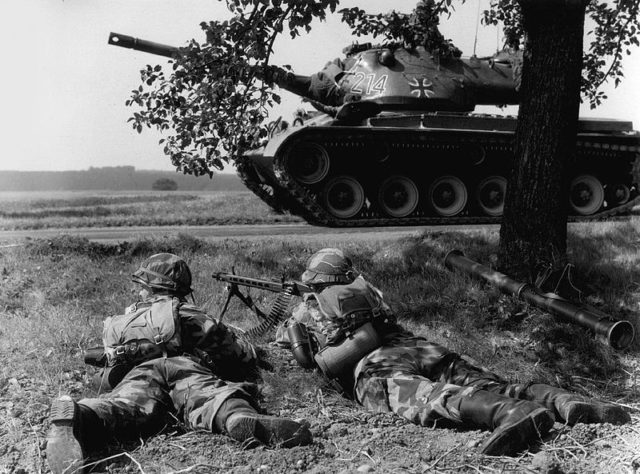 Members of Bundeswehr (West German Army) on NATO exercises; Photo Source
By 1943, Hermann Balck was already ranked Generalleutnant, an equivalent of the major general. In July 1944 Balck commanded the defense force during the initial phase of the Soviet Lvov-Sandomierz Offensive. He was also closely involved in the failed relief attempt of the encircled XIII Army Corps. They were trapped in a pocket near the Ukrainian city of Brody. Despite all efforts, the men in the pocket failed to receive reinforcements and were annihilated.
In September 1944, the utter decline of the German Army was evident on all fronts. Balck was transferred to France where he faced the Allies under the command of the American General Patton. The Germans were outnumbered and forced to obey Hitler's insane ideas which led to the downfall of the Western front. His old friend, Heinz Guderian requested he be transferred to Hungary, to stop the advancing Red Army. Instead, he surrendered to the Americans.
On May 8, 1945, the Lieutenant General of Armored Troops Herman Balck ended his war by surrendering to the U.S. XX Corps in Austria.
During WWII he collected a large set of army decorations, gradually advancing to the highest military honor in the Wehrmacht ― Knight's Cross of the Iron Cross with Oak Leaves, Swords, and Diamonds.
Herman Balck was mentioned in several extensive studies of German tank tactics during the war. U.S. General William DePuy considered him to be "perhaps the best division commander in the German Army."
After the war, he was in captivity until 1947. On several occasions he was offered to participate in the US Army Historical Division's study on the war, making his position as a POW more difficult. After he had been released, Balck found a job as a depot worker.
However, the following year, he was once again imprisoned.  He was on trial for an unauthorized execution of an artillery officer who refused to obey his orders. The officer in question was Lieutenant-Colonel Johann Schottke, and the event occurred on November  28, 1944, near Saarbrücken. Schottke's unit had failed to provide supportive artillery fire upon their designated target area. It was determined that Schottke was found drunk on duty, which was the reason for his execution.
Balck was found guilty and sentenced to three years in prison. He served approximately half of his punishment and was granted an early release. In the late 1970s and early 1980s, Balck's expertise was once again put to use in a series of seminars for NATO officers. These were held with Friedrich von Mellenthin, another highly decorated officer of the former Wehrmacht.
Herman Balck died on November 29, 1982 (aged 88) in Asperg, Baden-Württemberg, West Germany.  He left behind his memoirs entitled Order in Chaos: The Memoirs of General of Panzer Troops Hermann Balck (originally titled Ordnung im Chaos / Erinnerungen 1893 – 1948).