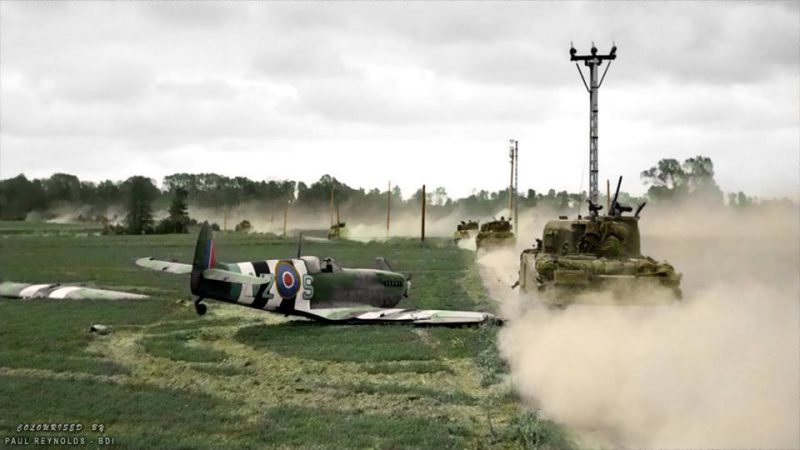 Many thanks go to Doug Banks and his team – the masters of colourisation.  The beauty of these colourised images is that colour, allows you to pick out and study the smallest detail. Do not click on their page – you will become addicted to their work  It is the research that they do on each image that makes the captions themselves a history lesson. Facebook page here Colourised-Photos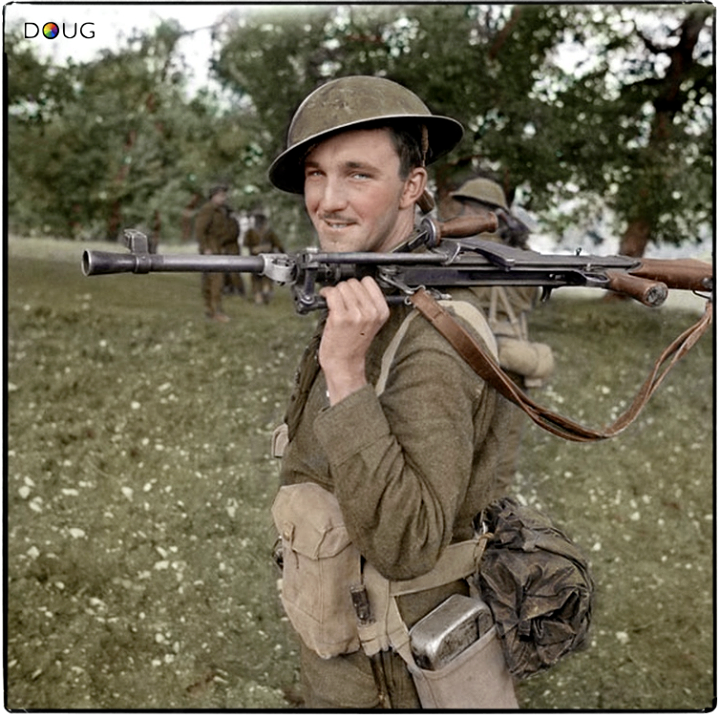 Private D.B.MacDonald, Royal Canadian Regiment (1CID) Campobasso, Italy, 11-14th of October 1943.
(LAC, PA163412)
The Bren Gun is a MkII with the sling mounted on the forward tripod fitting. The gun's bipod is the late-model, unadjustable version.
(Colourised by Doug UK)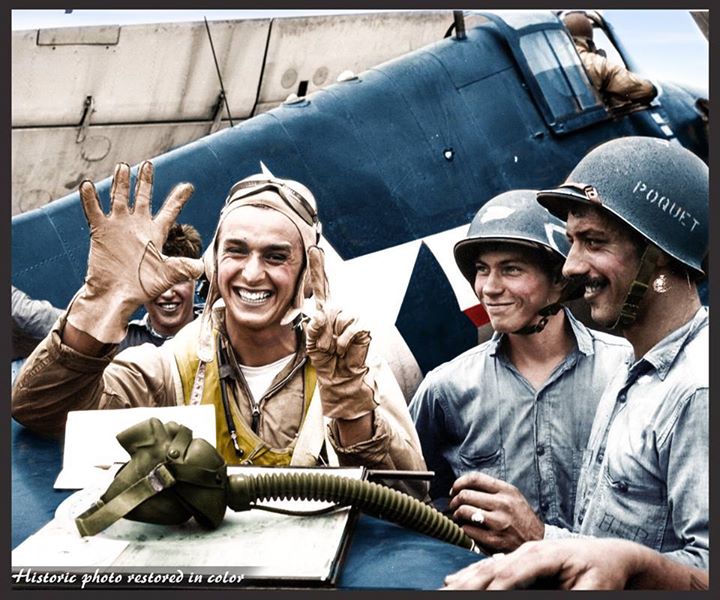 Alex Vraciu, who was just 25 when he reigned as the US Navy's top World War II fighter ace after downing 19 Japanese aircraft and destroying 21 more on the ground in only eight months in 1944, died on January the 29th 2015 in West Sacramento, Calif. He was 96.
Alex Vraciu accomplished his most spectacular feat in the South Pacific when he shot down six dive bombers within eight minutes in what became known as the "Great Marianas Turkey Shoot" in the Philippine Sea. He called it "a once-in-a-lifetime fighter pilot's dream."
Two of the aircraft carriers he flew from were torpedoed, twice he parachuted to safety, and twice more he was forced to ditch his Grumman F6F Hellcat — brushes with death that earned him the nicknames Grumman's Best Customer and The Indestructible.
He was nominated for the Medal of Honor and received the service's second-highest honor, the Navy Cross. And although he ranked as the Navy's top ace for four months, he ended the war in fourth place. When he died, he was the nation's ranking living World War II ace, according to the American Fighter Aces Association.
He was born on Nov. 2, 1918, in East Chicago, Ind., the son of Romanian immigrants. Shortly after graduating from DePauw University in Greencastle, Ind., already armed with a civilian pilot's license, he enlisted in a Navy flight training program six months before the Japanese attacked Pearl Harbor.
He entered combat in 1943 as part of Fighting Squadron 6, serving as wingman for Lt. Cmdr. Butch O'Hare, the Navy's first combat pilot ace and its first aviator to receive the Medal of Honor in World War II.
Alex Vraciu achieved his pace-setting six kills under harrowing conditions on June 19, 1944, as Japanese planes attacked a task force of American carriers and battleships. His plane's folding wings were mistakenly unlocked, and a malfunctioning engine was spewing oil on his windshield and preventing him from climbing above 20,000 feet. Still, he downed the dive bombers firing only 360 of the 2,400 bullets in his arsenal.
After the war, he worked for the Navy as a test pilot and commanded a fighter squadron. He retired in 1964 with the rank of commander and joined Wells Fargo Bank as a trust officer.
(Colorised by Johhny Sirlande from Belgium)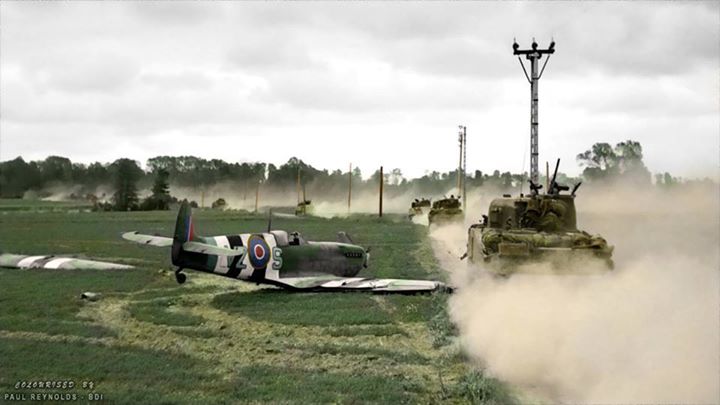 On the 11th of June 1944, F/O H.G. Garwood of 412 Squadron was flying VZ-S (MJ 255) MK IXc Spitfire when it suffered an engine failure* near Tilly-sur-Seulles, France, during the allied invasion. He was forced to execute a wheels-up landing which tore the port wing off as it looped in the grass. Fortunately Garwood was able to make it back to his base unharmed.
We think these tanks maybe from the 24th Lancers with the 8th Armoured Brigade, the regiment landed on Gold Beach, in the second wave of the Operation Overlord landings, supporting the 50th (Northumbrian) Infantry Division. Shortly after landing, it was involved in the fighting around Putot-en-Bessin and Villers Bocage, also seeing intensive action in the Tilly-sur-Seulles, Fontenay-le-Pesnel, Tessel Wood and Rauray areas.
Photo taken on the 17th of June as these Shermans were advancing.
*Note: Most reports say he suffered engine failure though a few articles say this spit was shot down by enemy AA, if anyone knows for certain please let me know.
(Colourised and Researched by Paul Reynolds.)
https://www.facebook.com/PhotoColourisation
Historic Military Photo Colourisations)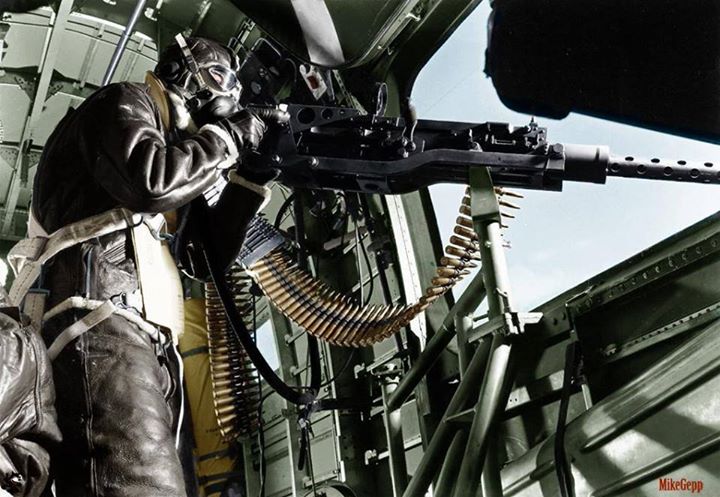 The Consolidated B-24 'Liberator' waist gunner c.1944
Waist gunners were charged with the defence of the Liberator's vulnerable sides through use of single 12.7mm machine guns. As such, these positions aboard Liberators suffered the most casualties by incoming fighters ready to strafe the large profile sides of the bomber. These two positions, left and right, were later staggered to compensate for each gunners firing arc.
Unlike other turreted positions in the B-24, spent shell casings at these waist positions were not jettisoned from the aircraft automatically, forcing crew-members to clear their areas themselves. Since firing from these side-perspective positions required a great deal of hand-to-eye coordination via tracer rounds while taking into account target speed and the Liberator's airspeed itself, waist gunners relied on simple targeting sights in the early years. Only later did they receive assistance in the form of compensating sights to help improve accuracy.
(Colorised by Mike Gepp from Australia)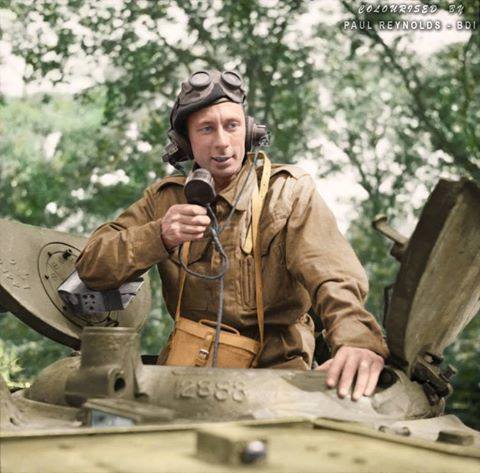 Sergeant A. Yorke of 'C' Squadron, 13th/18th Royal Hussars, 27th Armoured Brigade in the turret of his Sherman tank, during training, somewhere in the south of England.
30th of May 1944.
13/18 Hussars on D-Day were organised with:
RHQ – four Sherman tanks HQ Squadron – six Crusader AA Mark III (twin-20mm), 11 Stuart tanks and nine Humber scout cars A & B Squadron, each with four-tank troops and two in SHQ, plus two spare for a total of 20 C Squadron – four troops each with three Shermans and one Sherman 17-pdr and SHQ with four Shermans for a total of 20
(Source – © IWM [H 38968] – War Office official photographer
Sgt. J Mapham)
Colourised by Paul Reynolds.
https://www.facebook.com/PhotoColourisation
Historic Military Photo Colourisations)
A sniper from "C" Company, 5th Battalion, The Black Watch, 51st (Highland) Division, takes aim through the window of a building in Gennep, Netherlands.
**This is a posed photo** taken after The Black Watch had entered Gennep on the 13th February 1945.
The Reichswald and Gennep
After the winter campaign in the Ardennes, the 51st Highland Division returned to Holland. The Battle for the Rhineland started on 8th February 1945. There was a sudden thaw and everywhere roads turned to mud. The Allies entered the Reichswald just across the Germany Border. The 5th Battalion The Black Watch was on the southern edge of the forest.
On the 11th of February the 5th Battalion The Black Watch was ordered south to take the Dutch town of Gennep on the river Niers. 'B' Company took the bridge, church and hospital. 'C' Company then got into the main street and took the right hand side of the town.

(Source – © IWM B 14628 – Sgt. Silverside, Nº 5 Army Film and Photographic Unit)
(Colourised by Jean-Marie Gillet from France)
https://www.facebook.com/colors.of.the.past?fref=ts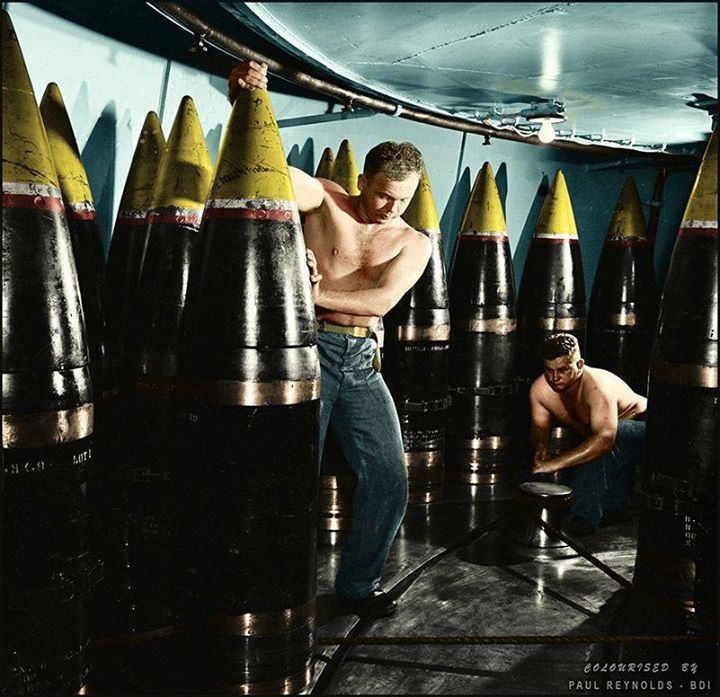 Ordnance men moving a 16″ shell from its storage stall to ammunition hoist on board the Iowa Class Battleship USS New Jersey (BB-62).
Nov 1944.
16″/50 calibre Mark 7 gun

These guns were 66.6 feet (20 m) long—50 times their 16-inch (406 mm) bore, or 50 calibres, from breech-face to muzzle. Each gun weighed about 239,000 pounds (108,000 kg) without the breech, or 267,900 pounds (121,517 kg) with the breech. They fired projectiles weighing from 1,900 to 2,700 pounds (850 to 1,200 kg) at a maximum speed of 2,690 feet per second (820 m/s) with a range of up to 24 miles (39 km). At maximum range the projectile spent almost 1½ minutes in flight. Each turret required a crew of 79 men to operate.
(Colourised and Researched by Paul Reynolds.)
https://www.facebook.com/PhotoColourisation
Historic Military Photo Colourisations)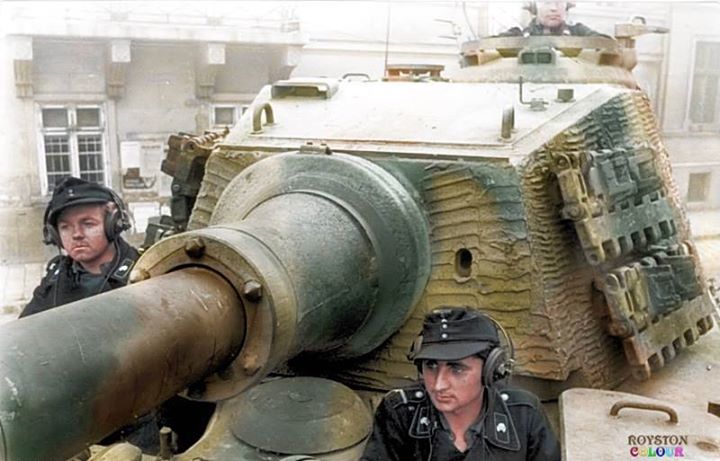 Panzer VI 'Tiger' II Nº233 of sPz.Abt.503 sits near St. Georges Square, Budapest, Hungary during 'Operation Panzerfaust'
15/16th of October 1944.
'Operation Panzerfaust', known as 'Unternehmen Eisenfaust' in Germany, was a military operation to keep the Kingdom of Hungary at Germany's side in the war, conducted in October 1944 by the German military (Wehrmacht). When German dictator Adolf Hitlerreceived word that Hungary's Regent, Admiral Miklós Horthy, was secretly negotiating his country's surrender to the advancing Red Army, he sent commando leader Waffen-SS Lieutenant-Colonel Otto Skorzeny to Hungary. Hitler feared that Hungary's surrender would expose his southern flank, where the Kingdom of Romania had just joined with the Soviets and cut off a million German troops still fighting the Soviet advance in the Balkan peninsula.
(Colourised by Royston Leonard from the UK)
https://www.facebook.com/pages/Colourized-pictures-of-the-world-wars-and-other-periods-in-time/182158581977012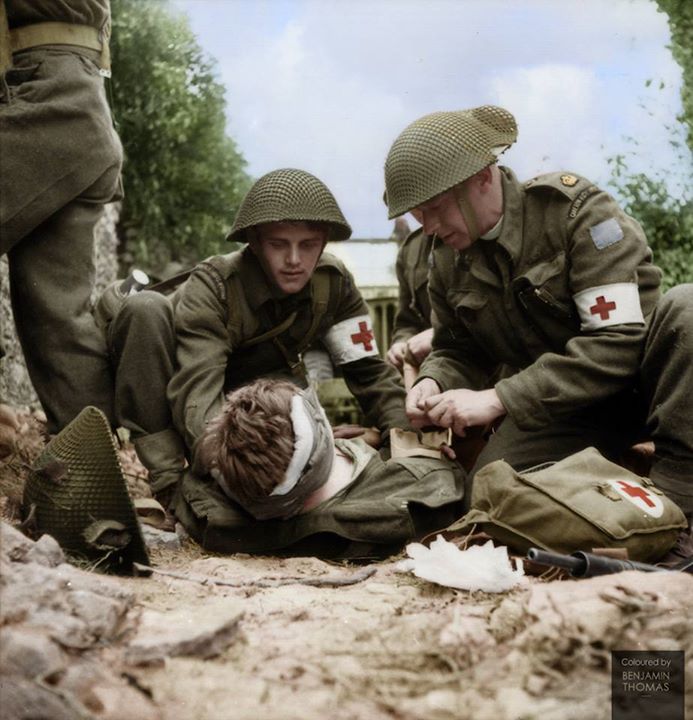 Major John W. Forth, Chaplain of The Cameron Highlanders of Ottawa (right), Canadian 3rd Infantry Division, helping the unit's Regimental Aid Party treat a wounded comrade during the Battle of Caen, France, 15 July 1944.
Photographer: Lieut. H. Gordon Aikman
Image courtesy of Photos Normandie
https://www.flickr.com/photos/photosnormandie
(Colourised and researched by Benjamin Thomas from Australia)
https://www.facebook.com/coloursofyesterday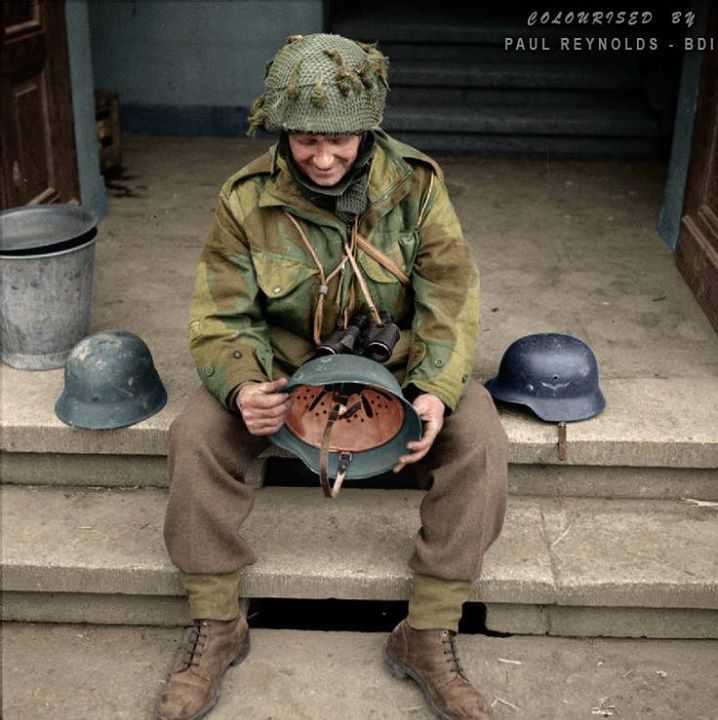 Regimental Sergeant Major Evans of the 12th Battalion, The Devonshire Regiment examines captured German helmets in Hamminkeln, Germany, 25th March 1945.
The airborne bridgehead operation over the Rhine – 'Operation Varsity'.
The battalion deployed by glider on the 24th of March 1945 and succeeded in its task of capturing Hamminkeln with the loss of 140 men killed, wounded or missing.
The following day the battalion pushed out of the Rhine bridgehead with a troop of Churchill tanks and a troop of self-propelled anti-tank guns in support . The group encountered enemy forces after two miles and took 60 prisoners. Later that day they successfully secured the high ground overlooking Brunen but in doing so sustained a further 6 killed and 11 wounded.
On the 2nd of April the battalion was involved in heavy fighting securing Lengerich and suffered a further twelve killed and four wounded. However, in two days it captured over 100 Germans.
The battalion suffered a rare set back when 'D' and 'B' Companies crossed the River Weser on 6 April with no anti-tank guns or mortar support and encountered Panther tanks. In the resulting engagement 51 men of 'D' Coy were captured by the enemy. Generally, the boot remained on the other foot as the 6th Airborne continued its advance, and from 16 to 18 April the battalion captured over 150 enemy, as well as liberating Allied POWs and foreign farm labourers.
The battalion continued its advance to the Baltic coast, and the war diary notes that in the 41 days to 4 May, just under half of the 369 mile advance was travelled by the battalion on foot. It finished up at Hohen Viecheln on the Schweriner See about 10 miles south of Wismar.
(Source – © IWM BU 2301 – Sgt. Christie, No 5 Army Film & Photographic Unit
(Colourised by Paul Reynolds.
https://www.facebook.com/PhotoColourisation
Historic Military Photo Colourisations)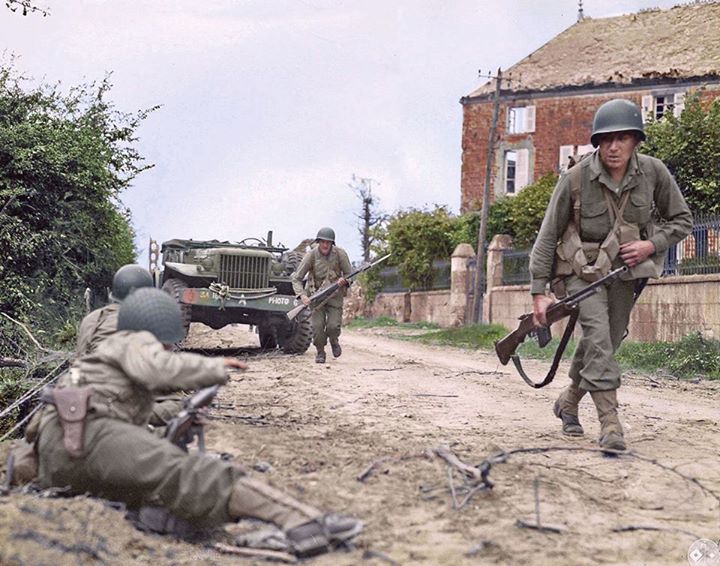 G.I.'s from (possibly) the 1st Btn, 314th Inf. Rgt. of the US 79th Inf. Div., during an attack on the Bolleville road, just north west of La Haye Du Puis in Normandy. c. 8th July 1944
The Dodge Command Car belongs to the 3rd A.D. 166th Signal Photo Co unit 6 and could be the transport of the photographer Rodger Hamilton.
The soldier on the right carries a .30 BAR Caliber Browning Automatic Rifle.
At 1830, on the 4th of July, 2nd Btn moved through 1st Btn's position to bypass La Haye du Puits to reach an assembly area about 800 yards northwest of Bolleville. 1st Btn was holding the line to the right, and 3rd was in a defensive position northwest of Ste. Catherine. 5 July – After six hours of heavy fighting, 2nd Btn managed to only advance one-half mile and was stopped cold until tank support arrived. 3rd Btn's K/Co was sent to recon La Haye du Puits and, at 0900, secured the railroad station on the north end of town. The Germans bombarded the station heavily and orders for K/Co to pull out were issued that afternoon. Later in the day, the entire 3rd Btn pulled back to regroup to the right flank (south of Bolleville) for the next day's assault.
1st Btn moved in south from Bolleville. Late in the afternoon, 3rd Btn ran into a battalion of Waffen SS in defensive positions of La Haye du Puits. The 315th, near Montgarden, was so far away that what resulted was a 500 yard gap in the 3rd's right flank. On the northern sector, a 1st Btn recon unit ran into resistance and had to fall back to Bolleville.
On the 7th of July, 2nd and 3rd Btn's tried to advance again with slight progress and at a high casualty cost. By nightfall, command of 2nd Btn had changed three times due to heavy losses. 1st Btn made another attempt to reconnoiter La Haye du Puits, but ran into heavy German defensive positions – mine-studded fields strung with checkerboard patterns of piano wire about one inch off the ground, mortar bursts, and machine gun batteries. Behind the 314th's position, the 8th Infantry Division was preparing it's 28th Regiment to relieve 2nd Btn's position. The next day's orders were for the 1st Btn to just contain the town, leaving the dirty work to the 8th Infantry Division.
But, as will become pattern, the orders changed sending 1st into town. The battalion broke up into smaller units to penetrate the German defensive positions. It was an awkward, almost Guerilla-like attack, but after a day of this tactic, on 8 July, the 1st Btn secured La Haye du Puits.
(Source – US Army Signal Corps)
(Colourised by Allan White from Australia)