Fifteen years later, after several tours at sea and postings at Marine barracks in the United States and Puerto Rico, Gunnery Sergeant Daly was assigned to United States occupation forces in Haiti. On 24 October, 1915 he was the senior noncommissioned officer on a mounted reconnaissance patrol sent to locate Cacos rebel strongholds in the interior of the island.
After dark that evening, as the detachment crossed a river in a deep ravine, they were ambushed from three sides by a force of some 400 Cacos. The Marines fought their way to a tenable position and established a defensive perimeter, but several horses and a mule carrying their only machine gun had been lost in the crossing.
Once the defenses were in place, Gunnery Sergeant Daly left the safety of the perimeter under cover of darkness and crept back to the river crossing in search of the machine gun, using his knife to dispatch several Cacos he encountered along the way.
At the river, with no cover from enemy fire, he dove repeatedly to find the mule and to detach and recover the machine gun and ammunition.  He then slipped back to the Marines' position carrying a load that had previously been assigned to a beast of burden and had the weapon assembled and emplaced before dawn.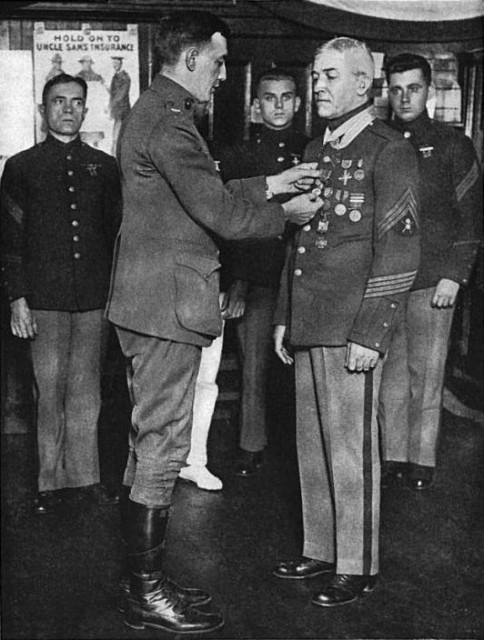 By first light, the Marines were organized into three squads. They executed a bold attack in three directions, surprising and scattering the enemy. After the mission was complete, the detachment commander, Major Smedley D. Butler, recommended Gunnery Sergeant Daly for his second Medal of Honor.
The citation for which reads, in part, "Gunnery Sergeant Daly fought with exceptional gallantry against heavy odds throughout this action."  Smedley Butler would go on to earn a second Medal of Honor himself later in the same conflict, becoming one of only two Marines to earn two Medals of Honor for action in separate conflicts.  The other, of course, was Dan Daly, whom Butler would later call "The fightenist Marine I ever knew."
First Sergeant Dan Daly and the 73rd Machine Gun Company, 6th Marine Regiment rolled into France in November, 1917.  In late May, 1918, they moved to positions southwest of Belleau Wood, where Daly's actions over six days in June would secure his status as a Marine Corps Legend. The citation for the Navy Cross he earned there lists "repeated acts of heroism."  On June 5th, he risked his life to put out a fire at an ammunition dump.
On June 7th, while his unit was under heavy bombardment, he visited all of his machine gun emplacements, then "posted over a large portion of the front, to cheer his men."  Then, on 10 June, after his unassisted destruction of a machine gun emplacement, he repeatedly brought in wounded Marines under fire.  Daly was recommended for a Medal of Honor for his actions, but the award was reportedly reduced because someone in the chain of command balked at the idea of anyone receiving three Medals of Honor.
First Sergeant Daly was wounded on June 21, 1918, but went on to fight in two more offensives before receiving wounds that took him out of combat.  He remained in Europe after the Armistice, serving in the Occupation of Germany. In 1919, he was assigned to the Fleet Marine Corps Reserve. He retired from the Marine Corps as a Sergeant Major on 6 February, 1929.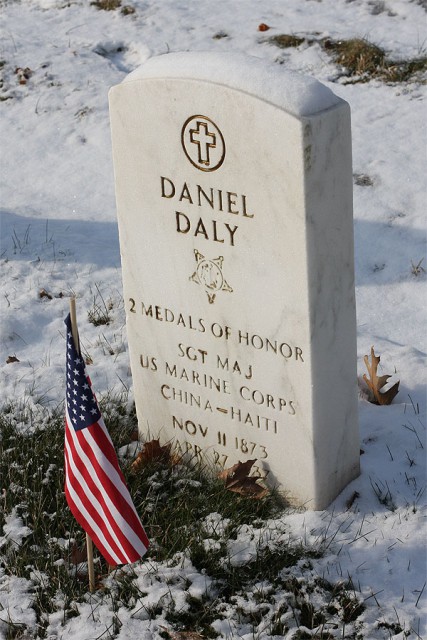 In retirement, Dan Daly avoided publicity and was averse to any attention paid to his awards, saying that all medals were "a lot of foolishness."  He died on April 27, 1937, at the age of 63 and is buried at Cypress Hills National Cemetery.