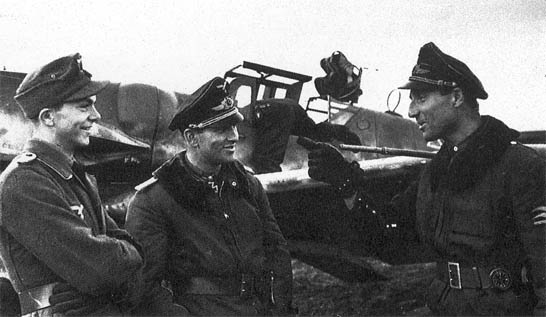 5. Wilhelm "Willie" Batz – 237 kills
Willie Batz flew 445 combat missions. More than a half of them were his aerial victories. The vast majority (234) of his victories were achieved on the Eastern Front, where he battled Sturmoviks and four-engine bombers on the regular basis. An interesting fact is that Batz was rejected several times for combat assignments in the early stages of the war, as he served as a flight instructor at fighter pilot schools in Kaufbeuren and Bad Aibling.
When the US bombers started raids on Romania's Ploesti oil fields, Batz  fought them off, downing three American bombers. In March 1944, he received the famous Knight's Cross of the Iron Cross with Oak Leaves and Swords for his service. In 1945, he was stationed in Hungary. He managed to extract his men back to Germany where they surrendered to the Allies, avoiding Soviet imprisonment, of which many Germans feared.Otto Kittel – 267 kills.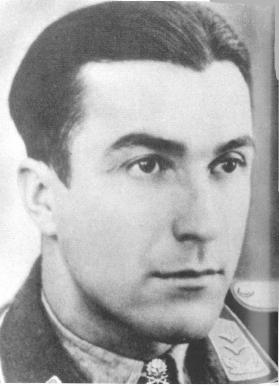 4. Otto Kittel – 267 kills
The man who opened the hunting season on the Eastern Front was Otto Kittel, who earned his first aerial victory on the first day of Operation Barbarossa. In total, he flew 583 combat missions with a score of 267 victories. His tally was fairly modest during his use of the Messerschmitt Bf 109.
By 1943, his count was 39, which is relatively insignificant in comparison to the other aces at that time. When he acquired the Focke-Wulf Fw190 fighter plane, the number of his aerial victories tripled before the end of the same year. He received both Knight's Cross of the Iron Cross and the Knight's Cross of the Iron Cross with Oak Leaves and Swords. Kittel became famous for battling the armored Sturmoviks and earned himself the nickname "Butcher Killer" since "Butcher" was the unofficial name for the Sturmovik, an airplane that caused many troubles for the Wehrmacht.
During one of his missions, Kittel was forced to land 80 km behind enemy lines. He managed to avoid detection disguised as a Russian peasant. Kittel was familiar with the Russian language and spoke Czech very well in addition. He passed several checkpoints and even received food from other peasants who couldn't see through his disguise. Three days later, he reached the German lines. After a short leave, he was back in the cockpit.
Otto Kittel was the highest-rated German fighter ace that died in combat, after being shot down by a Sturmovik gunner in February 1945.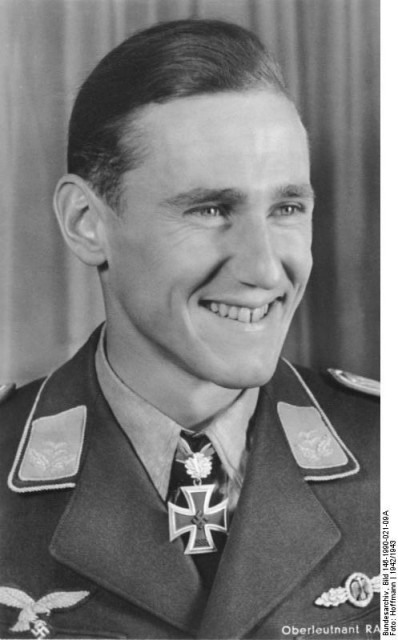 3. Gunther Rall – 275 kills
Gunther Rall became  famous on the Eastern Front, where he often engaged in dogfights with Soviet fighter planes. He flew 621 combat missions and earned 275 aerial victories in total. On the Eastern Front alone, he achieved 272 of them and 241 were against other fighter planes.
He first saw action during the Battle of France in May 1940, when he successfully defended a reconnaissance plane from three French P-36 Hawk fighter planes. He managed to down one of them. Soon after he was on the Eastern Front where he scored victories on a daily basis. Rall was shot down eight times and wounded three times.
After one of his crash-landing, he was hospitalized and the doctors concluded that his back was broken in three places. He was sent to a hospital in Vienna and was told that he could never recover enough to fly again. Gunther Rall proved them wrong and he was back in the saddle, just a year after the accident. In 1942, he received his Knight's Cross of the Iron Cross medal, to which were later added the Oak Leaves and Swords. He was presented with the award by Adolf Hitler himself.
In April 1944, Rall was called back to participate in the Defense of the Reich against the Allied bombers. On one of his flights, he was once again shot down. Rall suffered minor injuries which included his left thumb being shot off. Due to infections, he was forced to step down from combat mission for a while. During this time, Rall studied the American planes that the Germans managed to capture.
He was impressed with the luxury and performance by the enemy planes. Rall used his research to improve the tactics of his own pilots. After the war, Gunther Rall managed to find a job in the newly-established West German Army. He later became a General-Lieutenant and a military attaché in the NATO forces.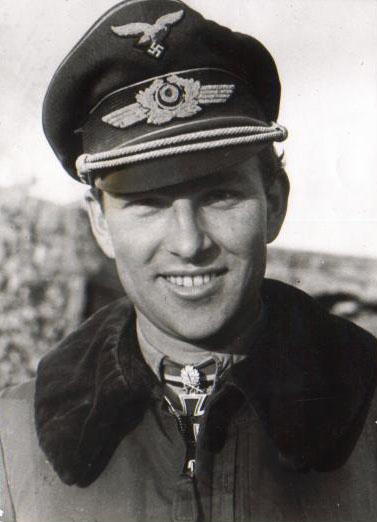 2. Gerhard "Gerd" Barkhorn – 301 kills
The number two on our list was a pilot who flew 120 combat missions all over Europe, before finally shooting down an enemy plane. After he found his "shooting eye", as he himself called it, his tally began to constantly rise.  Gerd flew with the famed Jagdgeschwader 52 squadron on the Eastern Front where he scored the majority of his aerial victories and a price was put on his head by the Red Army.
He was responsible for the death of Nikolay Klepikov, the Hero of the Soviet Union and a Soviet fighter ace. Barkhorn's awards include, of course, the Knight's Cross of the Iron Cross, later adding the Oaks and Swords. Despite being the second most successful ace in the history of aviation, he was not awarded Diamonds in addition to his Knight's Cross, after reaching his 300th kill.
After being shot down several times, Barkhorn developed anxiety and combat stress which became especially apparent during his missions in defense of the Reich. In the last year of the war, he was surrounded by inexperienced pilots who were dropping like flies against the battle-hardened Allied crews. His mental instability increased and he was hospitalized.
After a short leave, he returned as a pilot of the Me 262 jet fighter but didn't score any victories with the new plane, which he considered too hard to control. Gerd Barkhorn died together with his wife in 1983, after a fatal car accident.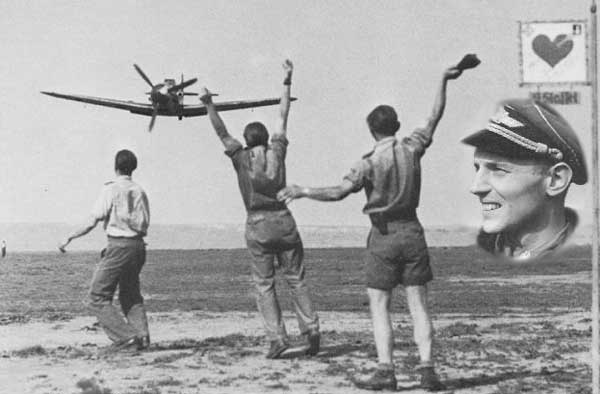 1. Erich "Bubi" Hartmann – 352
The Germans called him Bubi, but the Soviets called him the Black Devil. He was the highest scoring pilot fighter ace in the history of aerial warfare. He was only 20 years old, when he engaged in combat, in 1942, immediately becoming one of the best. Hartmann downed 345 Soviet aircraft and 7 American. He was loved and respected among his fellow-Luftwaffe pilots and Gerhard Barkhorn even served as best man on Hartmann's wedding.
Hartmann was awarded the Knight's Cross of the Iron Cross with Oak Leaves and Swords and Diamonds for his immaculate record. Of all of his accomplishments, the one that he was most proud of was the fact that he had never lost a wingman.
This, fairly, is something to be proud of, but history buffs couldn't let it slide ― he did lose one of his wingman in 1943. His name was Major Gunther Capito. Other than being a pilot, he was also a great tactician. In his own words, we offer you a glimpse inside the mind of the greatest fighter pilot that ever lived:
"Once committed to an attack, fly in at full speed. After scoring crippling or disabling hits, I would clear myself and then repeat the process. I never pursued the enemy once they had eluded me. Better to break off and set up again for a new assault. I always began my attacks from full strength, if possible, my ideal flying height being 22,000 ft because at that altitude I could best utilize the performance of my aircraft. Combat flying is based on the slashing attack and rough maneuvering. In combat flying, fancy precision aerobatic work is really not of much use. Instead, it is the rough maneuver which succeeds."
In his later years, after his military career had ended, he became a civilian flight instructor. He died of natural causes on 20 September 1993.