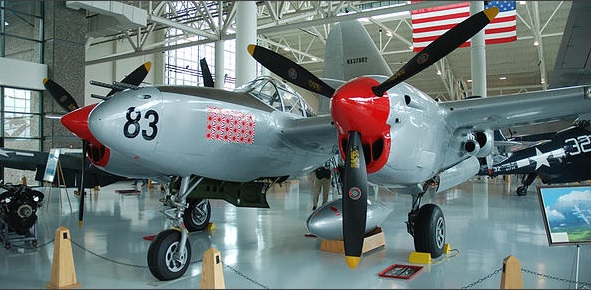 History:   P-38L s/n 44-53186 was manufactured by Lockheed at their Burbank, California facility in 1945.  Sold Surplus in 1946 for $1,250 it was used for aerial mapping until 1967 when it went on display at Harrah Automobile Collection where it remained on display unitl 1982. This P-38 went through several owners before being purchased by Warbirds Of Great Britain. In 1989 it was flown from California to the United Kingdom in an epic transatlantic crossing.  Shortly thereafter it was purchased by its current owner and flew back across the Atlantic to Arizona.
It was then sent to Darrell Skurich / Vintage Aircraft Ltd. in Fort Collins, Colorado where it underwent a 100 point restoration.  44-53186 is considered to be the finest P-38 restoration to date.
 Since 2003 this P-38L has been on display at the Evergreen Air & Space Museum in McMinnville, Oregon.
Lockheed designed the P-38 in response to a February 1937 specification from the United States Army Air Corps. Circular Proposal X-608 was a set of aircraft performance goals authored by First Lieutenant Benjamin S. Kelsey (later Brigadier General) and First Lieutenant Gordon P. Saville (later General) for a twin-engine, high-altitude "interceptor" having "the tactical mission of interception and attack of hostile aircraft at high altitude."
Kelsey recalled in 1977 that he and Saville drew up the specification using the word interceptor as a way to bypass the inflexible Army Air Corps requirement for pursuit aircraft to carry no more than 500 lb (227 kg) of armament including ammunition, as well as the restriction of single-seat aircraft to one engine. Kelsey was looking for a minimum of 1,000 lb (454 kg) of armament.