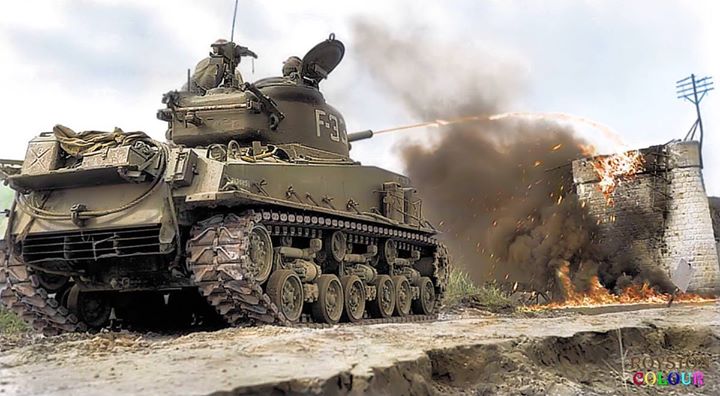 Brand new project by  Doug Banks and his team – the masters of colourisation.  The beauty of these colourised images is that colour, allows you to pick out and study the smallest detail. Their new project focuses on the the Korean War – the forgotten war.   Make sure your check out The Forgotten War In Color Facebook page.   It is the research that they do on each image that makes the captions themselves a history lesson.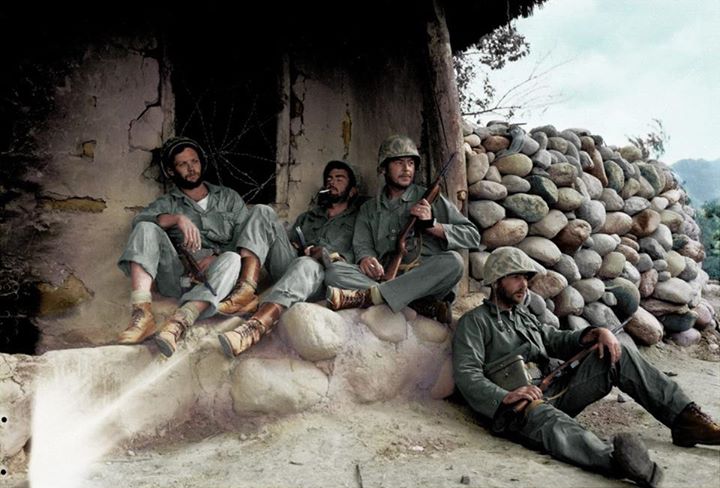 US Marines of the 1st Marine Division relax by a Korean hut after destroying an enemy sniper housed there. September 24, 1951.  They are left to right: Cpl Walter J. Lyons, Cpl John J. Raferty, Staff Sgt George R. Sullivan, and Cpl Joseph F. McCullough (Photographer – T. Sgt. Frank W. Sewell. (Marine Corps) NARA FILE #: 127-N-A156980)
(Colorized by Lori Lang from the USA)  https://www.facebook.com/historyrestored?fref=nf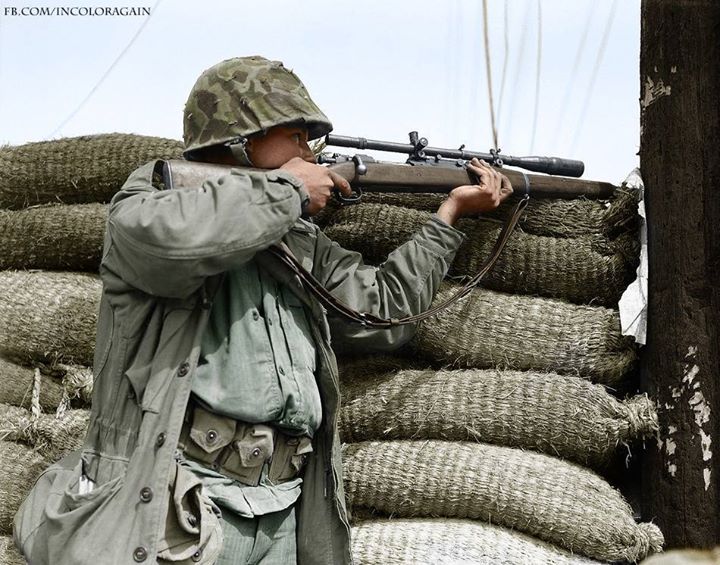 A US Marine marksmen with a Springfield M1903AI/Unertl Sniper rifle watches from behind a barricade for a North Korean sniper to show himself in Seoul, on September 28, 1950 (Colorized by Noah Werner Winslow)
https://www.facebook.com/incoloragain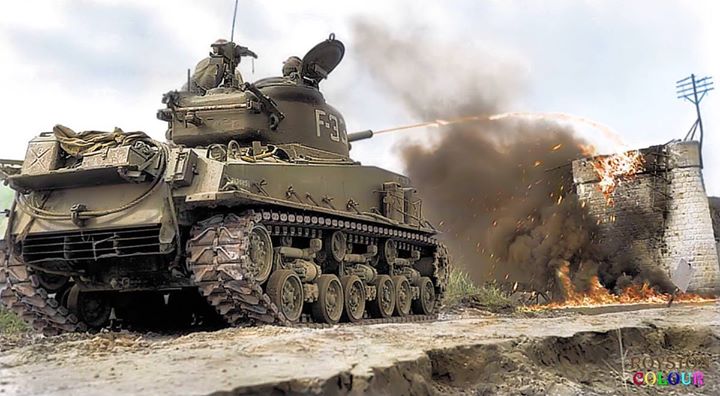 The M4A3R3 variant of the Sherman tank on exercises in Korea. 18 September 1953.
This M4A3(105) HVSS Sherman is fitted with a flame gun mounted coaxially with its 105mm howitzer. Howitzer ammunition stowage was reduced to 20 rounds.  Its designation stands for the Pacific Ocean Area, with the flame gun developed by the Chemical Warfare Service in Hawaii. This design replaced the previous POA-CWS-H1 that had the flame gun replacing the tank's regular armament. The POA-CWS-H5 could be constructed from either 75mm gun or 105mm howitzer tanks, but the design missed seeing action in World War II.  The Marines employed a single platoon of nine 105mm howitzer tanks in the Korean War attached to the Headquarters and Service Company of the First Tank Battalion. The crew was reduced to four Marines due to the space taken up by the flame equipment, with the TC inheriting the role of gunner as well. Note the infantry phone box mounted on the right side of the hull rear plate.
(Picture taken by Cpl. J.W. Weber)  (Colourised by Royston Leonard from the UK)
https://www.facebook.com/pages/Colourized-pictures-of-the-world-wars-and-other-periods-in-time/182158581977012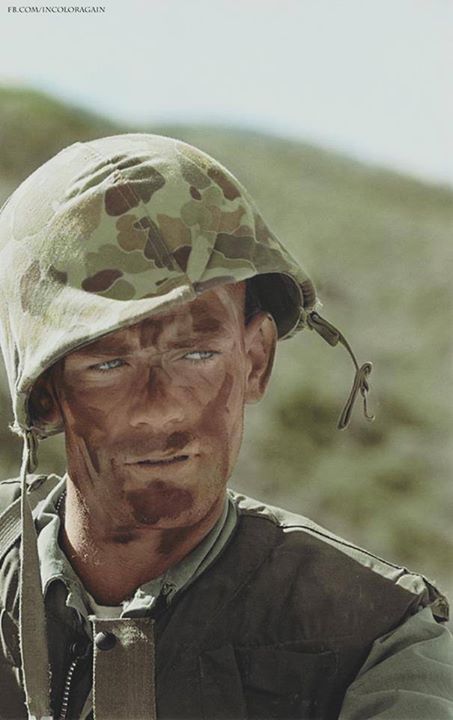 A US Marine at the 1st Marine Division outpost near the "No Fire" truce site at Panmunjom, Korea. June/July 1952. (An unpublished 'Life' magazine photograph by Michael Rougier)
(Colorized by Noah Werner Winslow)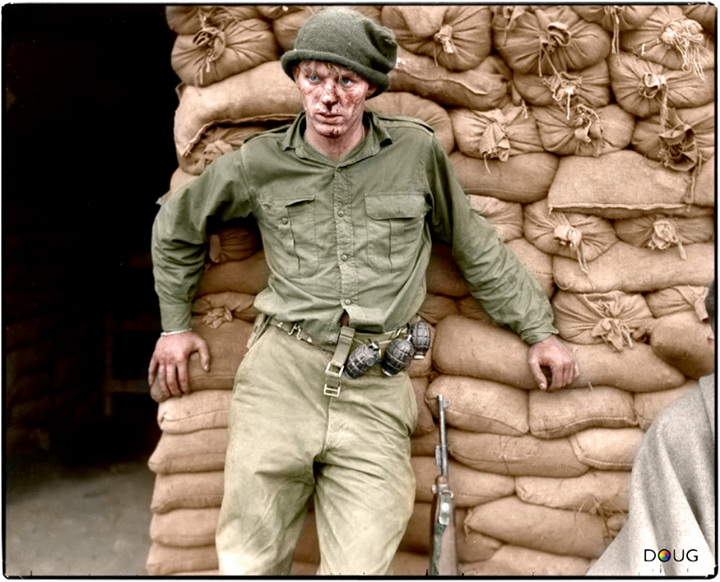 "Face of War." Private Heath Matthews (aged 19) of 'C' Company, 1st Battalion, Royal Canadian Regiment, awaiting medical aid after a night patrol near Hill 166, 22 June 1952. Heath Matthews enlisted in the Cana­dian Army Spe­cial Force for ser­vice in Korea shortly after the out­break of war in 1950. He was 18 years old at the time. Pri­vate Matthews served in Korea with Charles Com­pany, 1st Bat­tal­ion The Royal Cana­dian Reg­i­ment (1 RCR) dur­ing 1952 – 1953.
While act­ing as a sig­naller, Heath Matthews par­tic­i­pated in a company-sized fight­ing patrol on the night of 21 – 22 June 1952. The action was a raid against a Chi­nese posi­tion near Hill 166, west of the Jamestown Line. As the objec­tive was neared the patrol was caught in a dev­as­tat­ing enemy mor­tar bar­rage. Two Cana­di­ans were killed and sev­eral wounded. Hit in the face by shrap­nel, Heath Matthews was one of the wounded.
On the morn­ing of 22 June as a wounded mem­ber of the Charles Com­pany patrol waited out­side a front line bunker to receive med­ical treat­ment, Sergeant Paul E. Tomelin, an army pho­tog­ra­pher of the No. 25 Cana­dian Pub­lic Rela­tions Unit, snapped a highly evoca­tive photo of this dazed and wounded soldier.
Tomelin's pho­to­graph would become the iconic pic­ture of the Cana­dian involve­ment in the Korean War and would sub­se­quently be dubbed as "The Face of War". Of this now famous pho­to­graph one future reviewer would com­ment, "Among the hun­dreds of out­stand­ing pho­tographs in this pre­sen­ta­tion is one from the Korean con­flict enti­tled The Face of War. Taken by Paul Tomelin, it's a black and white por­trait of a Cana­dian sol­dier just after a night raid on the enemy. Pri­vate Heath Matthews' face is cov­ered in blood as he awaits med­ical atten­tion for his super­fi­cial lac­er­a­tions. The blood, com­bined with the weary and aston­ished expres­sion on the young soldier's face, effec­tively por­trays the ter­ror of war. Look­ing at such a poignant image, one can­not help but feel a cer­tain degree of admi­ra­tion for the pho­tog­ra­pher him­self."
HEATH BOW­NESS MATTHEWS, 1932 – 2013  (Colourised by Doug)
https://www.facebook.com/ColouriseHistory?fref=nf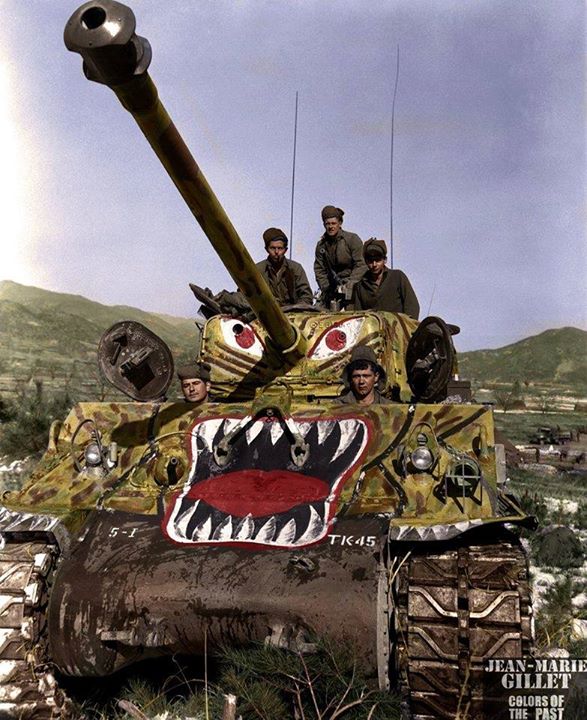 US soldiers prepare to advance along the Han River area, Korea, in their M-4A3E8 Sherman tank (painted with a 'tiger scheme' as a psychological effort to undermine Chinese morale), during the offensive launched by the 5th Regimental Combat Team against the Chinese forces in that area. February 18th 1951.
Left to Right: Cpl John T. Clark (Union, SC); Cpl James E. Kishbaugh (Nescopeck, PA); Sgt Frank C. Allen (Etiwanda, CA); Sgt Theodore R. Liberty (Bushton, MA); and Cpl William J. Bohmback (Boston, MA).
'Operation Courageous' (22-28 March 1951) was a military operation performed by the United States Army during the Korean War designed to trap large numbers of Chinese and North Korean troops between the Han and Imjin Rivers north of Seoul, opposite the South Korean I Corps. The intent of Operation Courageous was for I Corps, which was composed of the U.S. 25th and 3rd Infantry Divisions and the Republic of Korea (ROK) 1st Infantry Division, to advance quickly on the North Korean and Chinese troops and reach the Imjin River with all possible speed. Source: US Army – Department of Defense visual information (DVIC) (Colorised by Jean Marie Gillet from France)
https://www.facebook.com/colors.of.the.past