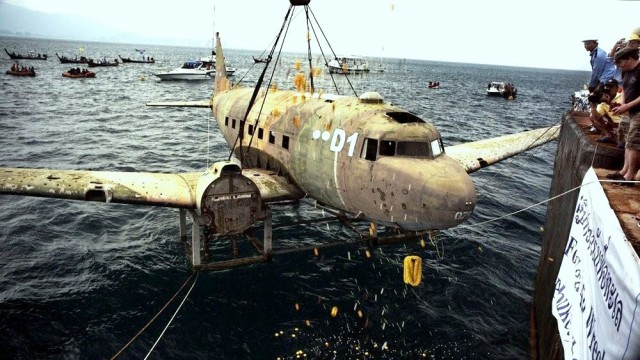 The AC-47 came in many versions and was used for anti guerrilla operations in Laos, Cambodia, the Philippines and Thailand.
But also in Indonesia in the 1970's (in East Timor's revolt), Taiwan and Rhodesia, and by the mid 1980's the AC-47's showed up in El Salvador.
The South African forces had a AC-47 version named the "Dragon Dak" with a single 20 mm cannon mounted in the cargo door but many different types of weapons have been used, even the Machine Guns taken from out-phased F-86's were mounted by the Republic of China's forces (Taiwan).
I came to Thailand in 2008 and was invited to make a bidding for components of 5 ex-USAF C-47's that were doomed to be sunk. In Phuket Island. I joined in chaotic preps for the making of a C-47 "Reef Squadron", a submerged museum/ diver's paradise. I made a deal about the removal of parts before the sinking would take place, but it came all to no avail as I ran into a controversial trade with the Military, the Diving Association and a scam.
On this photo 3, you see me throwing flowers from the barge as ritual of a burial ceremony for the C-47 with Buddhist priests, just prior to the lowering of the aircraft in its final "tomb" on the sea bottom. Those 5 (A)C-47's had come a long way from home, they had served in WWII, Korea and Vietnam and in 1975 were flown to Thailand for another 20 years of Military services. It was a weird party, no US military on this funeral, but some days later, I felt the long arm of the Pentagon reaching out to me.
But he greatest surprise came at the very end of this tale. This AC-47 had opted for its own secret destination: Old Soldiers never die and believe it or not, in a final surprise act, she has flown herself out from this museum/ divers attraction, gone forever into the abyss of the Indian Ocean. (For more details and photos about this incredible story, please view my book The Dakota Hunter, chapter 8, Sinking the Dakota's).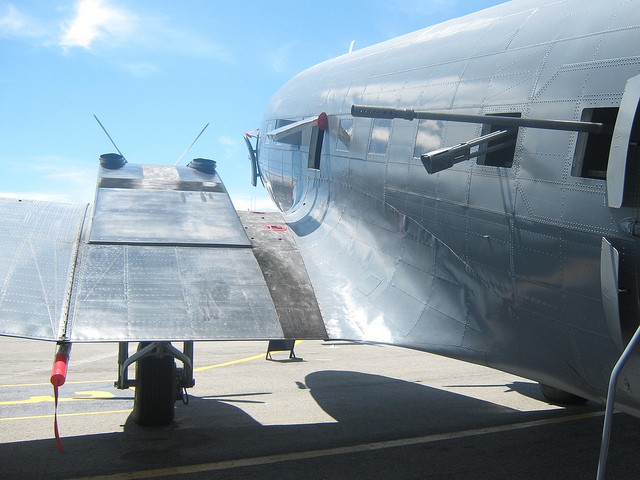 I came back to Colombia as the travel ban to that war ridden country was lifted in Oct.2006. I encountered a country where foreigners were not seen since 1999 while the war on drugs and against Farc was still fully on. It was the year that the Colombian Forces decided to launch the AC-47 against the guerrillas hidden in the jungle. A similar situation as 40 years earlier in Vietnam, dense jungle scenes with bamboo built enemy camps that were easy meat for the low flying orbiting aircraft with side wards firing machine guns.
But technology had made a giant step forward, while the good old platform of the C-47 air frame remained valuable. Enter the AC-47 T for Turbo, based on the Basler Turbo conversion BT-67's, add a Hi Tech FLIR camera ( forward looking infrared) coupled to the pilot's goggles and supply some serious lead pumping barrels as the 'business end' of this killer bat. (see photo with a rapid firing 3 barrels Machine Gun and a cannon with long barrel). Colombians name it the Fantasma (Spanish for Spooky), they have 5 of them and that Old Soldier still flies combat missions up until today, 50 years after the first AC-47 flew its maiden mission and 70 years after WWII!
In my book I describe in details the apocalyptic scenes that this plane can inflict in the Colombian jungles. As all honest villagers were told to stay in their hammocks at night, the AC-47T's swarmed as "Bats out of Hell" over the jungle, picking up every human infrared silhouette outside the villages that were instantly targeted with their guns.
It meant the beginning of the end for Farc, with hundreds of their camps/ troops hunted and killed at night and subsequently, thousands who ran away and deserted in the hope to escape this devastating killer scheme. Farc had no answer to keep the bats at bay and they desperately made a move to find an escape from this nightmare. They came very close but DEA screwed up their smart plan just in time.
Read the intriguing story of what happened out there, it is all in my book, see the detailed photos of this man hunt system based on the 70 years old C-47.  My book " The Dakota Hunter" in English version ( 320 pages, 250 photos) is about to be launched in USA/ Canada/ UK by Casemate Publishers around 23 March 2015.
For a most impressive review of the book, read also Mark Barnes report!
You can order the book NOW at Amazon USA, Amazon UK, Barnes & Noble, WHSmith and  everywhere fine books are sold in USA/ Canada/ UK etc.
For more content info about my book, and the ordering (also of an autographed limited edition), please view my website www.dc3dakotahunter.com.