While Johnson was still in Harlem, the then 15th infantry of the New York National Guard had been the first all-black regiment to be instituted in the army. However, this regiment was still led by white officers. To create change, an African-American New Yorker by the name of Charles W. Fillmore had introduced the idea of an African-American unit. The governor at the time, Charles S. Whitmore, ultimately decided in favour of the idea, appointing Colonel Hayward to take charge of creating the regiment. For his efforts, Fillmore was then commissioned by Hayward to become Captain.
Despite making headway in the advancement of African-Americans in the army, racist undertones still burdened the war effort. Once the troops had landed in France, Johnson and his fellow regiment were initially detained from combat training, instead merely delegated to labor service duties. Under the command of General John J. Pershing, Johnson and the 369th regiment were apparently 'loaned' out to the French army's 161st division. According to speculation, Pershing made this decision to segregate the African-American troops as a result of the Caucasian soldiers expressing their grievances regarding working next to their black American comrades. Racism amongst early American military forces led to decades of struggles in trying to honor Johnson's legacy later on.
While turmoil amongst the American infantry was going strong, the French army had a decidedly different approach to their arrival. French soldiers and citizens welcomed Johnson and the Americans, merely being thankful for any reinforcements they could acquire as the war continued to rage on.
A Hero is Born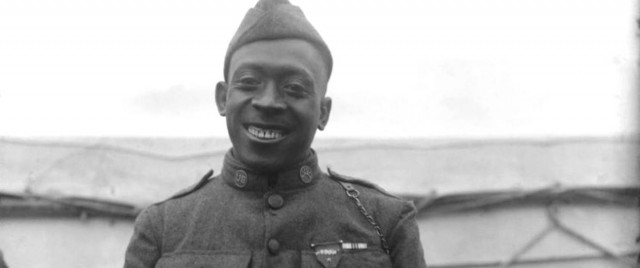 For his valiant efforts, Private Johnson was awarded the Croix de Guerre, a French medal with a star and bronze palm. He was the first American soldier in WWI to achieve this award, and wore it proudly among the other soldiers of the 369th infantry, who later became known as the "Harlem Hellfighters."
Newly-appointed Sergeant Johnson returned home as a national hero, gaining recognition through his story published in the Saturday Evening Post and New York World. Johnson and his regiment were invited to partake in a victory parade in New York City, and he began a lecture tour around America.
However, when it came time for Johnson to describe the unity among his fellow soldiers, he could not hold back the truth: during a lecture in St. Louis, Johnson detailed the abuse of African Americans at the hands of white soldiers, describing the racial segregation.
In the weeks after, in response to his comments, Sgt. Johnson became a pariah of sorts. His refusal to hide the truth about the army's behaviour led to him spending the rest of his life in ambiguity.
Sadly, this remained until the day of his death. On September 16, 1927, Veterans Bureau records show Johnson had been granted disability in response to his diagnosis of tuberculosis. On July 1, 1929, Johnson passed away in Washington D.C. and remains buried in Arlington National Cemetery.
Remembering the Honest Man
Johnson's bravery has been commended through countless awards and recognitions since his last day on the battlefield.
In 1919, he was named by Theodore Roosevelt, Jr. as one of the five bravest Americans to serve during World War I. In Albany, New York, Johnson has accrued multiple acknowledgments, including a monument in Washington Park built in 1991 and a Charter school bearing his name in 2007.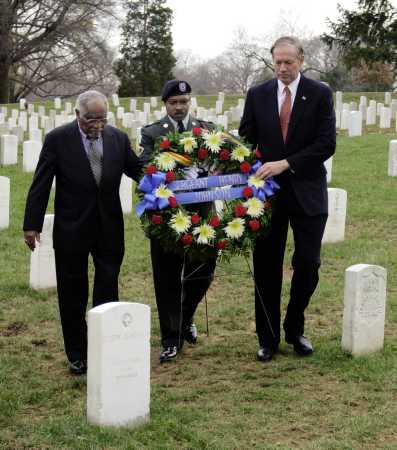 And after posthumously receiving a Purple Heart from President Bill Clinton in 1996 and the Distinguished Service Cross in 2003, Sgt. Johnson most recently received his Medal of Honour, awarded by President Barack Obama on June 2, 2015.