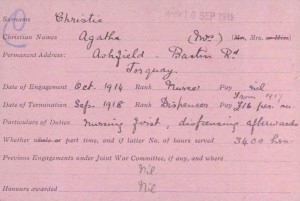 Prior to the war, she had tried and failed to publish a novel. While serving as a nurse, her sister dared her to write another. She used her newfound knowledge, plus a recent interest in mysteries, to inspire her first successful mystery novel, The Mysterious Affair at Styles in which we first meet that Belgian refugee, Poirot, and in which he solves a case involving poisoning.
She said, "Since I was surrounded by poisons, perhaps it was natural that death by poisoning should be the method I selected."
Following WWI, she became an incredibly successful novelist. When the next World War came around, she furthered her education of poisons; likely paying even more attention now that it was her method of choice.
She worked at the pharmacy in the University College Hospital in London. The chief pharmacist there, Harold Davis, who would later become the chief pharmacist for the UK Mini suggested to her that thallium could be used as a poison. After using it in her novel, The Pale Horse, doctors who had read her very detailed descriptions of its effects were able to properly diagnose real life victims. A one year old little girl was saved because her nurse was reading The Pale Horse at the very time the girl was under her care.
It was not only tools of murder that she took from her wartime hospital and pharmacy experiences; she also used them to form characterization. Writer Michael C. Gerald surmises in an article for Pharmacy in History that Christie formed a distrust of medical professionals through working with them and that this distrust plays out in her books. He points out that many of her villains are doctors and scientists and points to this quote from one of her books:
"There seems to be a kind of fashion in drugs like everything else. Doctors seem to follow one another in prescribing like a lot of sheep."
Of Christie's 85 books, 66 were detective novels. Forty one of those 66, involved poisons. Twenty four of her 148 short stories did as well.
Agatha Christie wasn't all poison, murder, and intrigue, though. She knew how to have fun. She was one of the very first Britons to learn to surf standing up. Imagine that.
Sources: