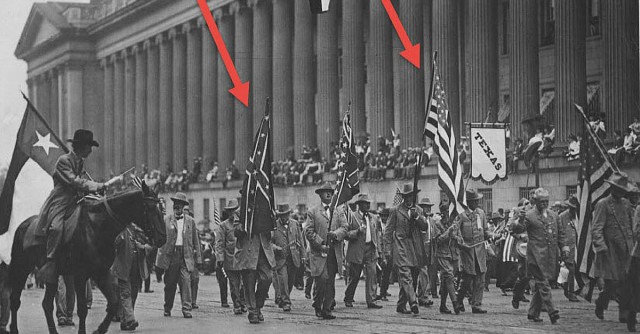 The Civil War was long ago, but there are living people that remember meeting veterans of that war in their schools and town squares when they were children.
On what was then called "Decoration Day" and is now our modern Memorial Day, Civil War veterans would be invited to speak to children and townspeople and to tell stories of their time at war. These appearances were common at the turn of the century and dwindled in the 1940s and 1950s as the last of the soldiers passed on.
According to the book The Civil War Veteran: A Historical Reader, these visits were in part a response to textbooks that glorified the patriotism of the Southern soldier and portrayed Union soldier as a penniless immigrant drafted into war. "In Wisconsin, for example, several posts instituted 'children's campfires' where veterans related the Union version of the war to young people; in Chippewa Falls, members were detailed to visit schools on Memorial Day. In Philadelphia, Post 2 members invited high school classes to visit the post hall, tried to institute a series of lectures by post members in area schools, and designated their own committee to deal with patriotic instruction."
Many soldiers saw these visits as an opportunity to instill patriotic values in the youth of the nation. Prior to "Old Soldier's Day" in Lawrence, KS in 1913, the post commander sent this message to the area veterans: "Comrades and Sisters: Allow me in all sincerity to call your attention to the importance of fulfilling the above detail by presenting yourselves at the respective schools assigned.
In so doing, marvelous results, and stronger influences may arise in the future that will benefit mankind in general, depending largely on the instruction we give to the rising generation, regarding patriotism, loyalty and devotion to their 'Country's Flag, Old Glory,' the pride of the boys in blue, saved and protected, by us, living veterans and the heroic dead of the civil war."
Continued on Page 2