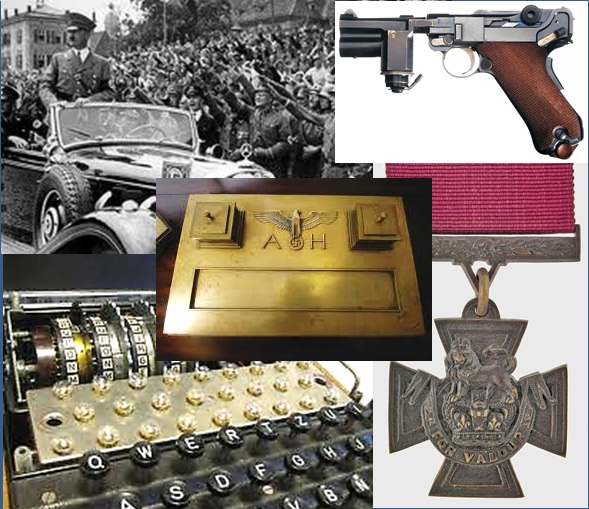 It's a fact. Once relatively lowly priced and overlooked World War Two collectables, perhaps even considered worthless in their time, are now fetching considerable prices today, prices previously reserved only for the finest ancient arms and armour.
Whilst the majority of the WW2 collectables market is made up of very affordable pieces, there is a top end to the WW2 market frequented by wealthy collectors and museum buyers. Supply of these top-end items is very limited – but rarity is not on it's own enough to drive prices high. The items are highly collectable which means plenty of interest and buyer competition in acquiring them.
At this end of the market are the items of significant historical merit, those unique items that collectors aspire to own because of the significant events, men or women associated with them. These are genuine historical artifacts, ownership brings the custodian closer to the history, it's part of a learning experience. It's no surprise therefore to see that six of the top ten are items associated directly with the commanders and leaders of the oposing WW2 forces.
For those of us who enjoy browsing militaria stores online, markets and fairs, aspiring to own one of these top end antiques is perhaps the closest we could get to actually owning one. If we're lucky such items would be bought by a museum or private collector willing to one day put them on display for us to see.
Here are our top ten WW2 items sold, thanks to wikicollecting for the info:
10) Churchills snuff box £14,400
In tenth place of the top 10 most expensive WW2 items auctioned is Winston Churchill's silver snuff box, presented to his House of Commons door keeper in 1941 after the door keeper lost his own snuff box in the blitz. Sold by Sotheby's in July 2006 for a relatively modest sum.
9) Churchill type script £20,400
Next we have more Churchill memorabilia, a typescript with handwritten revisions by the man himself following the invasion of Sicily and three days after the overthrow of Mussolini. Sold by Sotheby's in July 2003.
8) Peter White Archive £30,000
In the eighth spot are the remarkable letters of infantry platoon commander Peter White. The package included his handwritten diary covering 1944-1945, along with over 730 drawings in pen and ink, newspaper clippings, photographs, the typed and handwritten manuscript of his published work With the Jocks, his regimental KOSB Glengarry ,4 medals, a Kodak camera taken from a German prisoner in Holland with photographs developed from the film, and several sketchbook. Sold by Christies in June, 2007.
7) Mussolini's Order of Courage Medal £74,000
Taken from him on the day of his arrest in Rome, this military medal was owned by Mussolini and sold by La Galerie Numismatique in March, 2012. They noted that the sale reflected a growing interest in artifacts relating to the dictator.
6) Hitler's 'Night Guard' pistol Luger Pistol, £97,000
Next we have a rare Luger with a flashlight attachment. These pistols were used with tracer ammunition by officers in constant patrol around the Fuhrer. The particular pistol was sold by Rock Island Auctions on April 2012.