"These are not men; they are demons!"
This was Mexican Colonel Francisco De Paulo Milan's response when presented with the only French survivors of the Battle of Camarone. Earlier that day, April 30th, 1863, 3,000 of his men had been tied up fighting what he assumed was a large and powerful force of French Legionnaires. What Milan didn't know was that while the French force certainly was powerful, it wasn't large.
The French army had arrived in Mexico a year earlier, in March of 1862. They were coming to pressure Mexico into paying her debts to her European creditors, Spain, France and the United Kingdom. In May of 1862 they had tried to take the Mexican capital of Puebla but were driven back. On March 16th of 1863, they tried again. By the end of April, the siege of Puebla had been dragging on for a month and a half. The French had been steadily losing troops to disease, and their supply lines were constantly harassed by Mexican guerrillas.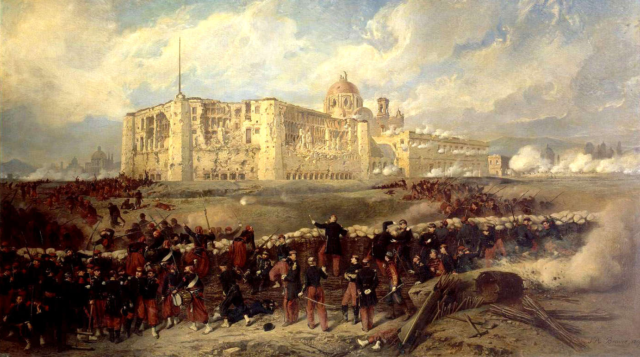 On the 29th of April, a supply convoy was preparing to go out. It carried a king's ransom in gold francs, artillery pieces and ammunition, all bound for the Siege of Puebla. The convoy was protected by two companies of Fusiliers, but they were going into dangerous and unknown territory.
The mission to reconnoiter the road ahead was given to the 3rd Company 1st Regiment of the French Foreign Legion. The 62-man company had no officers, but three volunteered from the regiment, including the daring one-handed Crimean War veteran, Captain Jean Danjou.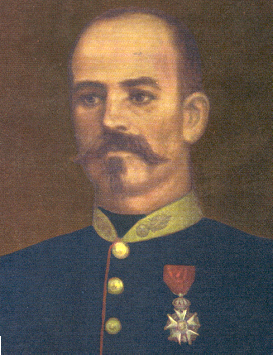 At 01:00 AM on April 30th, 1863 the small band of Legionnaires marched out to roam the countryside. At 07:00 they reached their stopping point, Palo Verde. Captain Danjou told the men to prepare coffee, while sentries were posted to keep an eye out for Mexican guerrillas or cavalry. At 08:00 the call came back, 250 Mexican cavalry had been spotted.
Danjou immediately recalled his sentries, ordered the fires out and his men formed a square. They waited anxiously, watching the cavalry approach them over the fields. Finally, the Mexican force charged them. Danjou's men held their fire until the enemy closed to 100 yards, to conserve ammunition and ensure accuracy. Finally, they let loose a volley of devastating fire, and the Mexican troops fled to regroup. Danjou moved his men to the top of a small nearby hill and formed another square. Again the cavalry charged, this
Danjou moved his men to the top of a small nearby hill and formed another square. Again the cavalry charged, this time more cautiously. And again the Legionnaires waited until they were practically on top of them to fire. The cavalry finally relented and went back their headquarters two miles to the north to report.