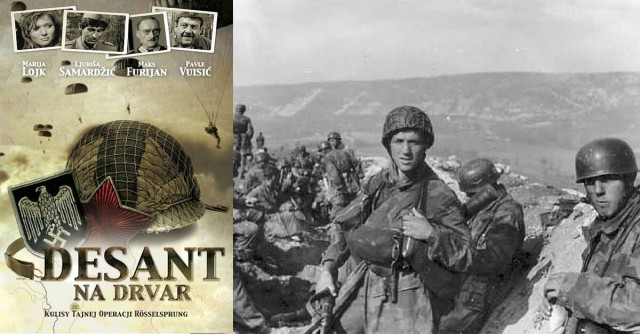 Sick and tired of the Holywood versions of war? Can't stand watching another Pearl Harbor remake? Try something else en check out the top 10 best war movies from Yugoslavia!
1. Kozara (1962)
Yugoslav war film made in 1962, directed by Veljko Bulajic. The movie was known as the first partisan epic in the history of Yugoslav cinematography. It was made to mark the 20th anniversary of the battle on Kozara Mountain. This film won golden medals at the festivals in Moscow and New Delhi. In this movie, Branko Lustig played the role of a German soldier who got blind during the battle. Lustig later became a successful Holywood producer.
2. Desant na Drvar – Drvar Landing (1963)
This movie was filmed in 1963, directed by Fadil Hadzic. It is based on true events regarding the German attempt to liquidate Tito and the Partisans' Supreme Headquarters with unexpected airborne assault on the city of Drvar in 1944.
3. Most – The Bridge (1969)
War story directed by Hajrudin Siba Krvavac, which tells a story of a group of Partisans who have an important task – the destruction of an important enemy strategic point, the bridge, and stop the withdrawal of the German troops from Greece towards the west.
4. Bitka na Neretvi – Battle of Neretva (1969)
Movie made in international co-production with Italy and West Germany, directed by Veljko Bulajic. It is considered the best and the most expensive Yugoslav war movie. Assessment of the budget of the film ranges from 4.5 to 12 million dollars. The movie tells a true story of the withdrawal of Partisans and the wounded during the Fourth enemy offensive in 1943. The movie was nominated for an Oscar. Poster for the English version of the movie was made by Pablo Picasso.
Main roles: Sergej Bondarcuk, Yul Brynner, Anthony Dawson, Milena Dravic, Boris Dvornik, Velimir Bata Zivojinovic, Orson Walles.
5. Valter brani Sarajevo – Walter Defends Sarajevo (1972)
A movie directed by Hajrudin Siba Krvavac, filmed in 1972. The movie is a free interpretation of the biography of a real anti-fascist fighter – Vladimir Peric Valter. Thanks to the spectacular action scenes and a lot of humor, the film gained extreme popularity and is classified among one of the most successful Partisan movies.
Continues on Page 2