There are frequent cases of partially masked pillboxes, or others that were supplied with a fictitious roof to conceal it from aircraft.
Fortified structures are a crucial way of protecting soldiers from enemy attacks and ensuring their combat effectiveness. During the Second World War, hardened field defenses formed part of British preparations for a possible German invasion. These were small-fortified structures, commonly known as pillboxes.
The directive of Fortifications and Works (FW3) was developed under the leadership of Major-General G.B.O. Taylor in May 1940. The directive sought to develop simple but effective pillbox designs that local workers and soldiers could quickly build in defensive locations.
In June 1941, basic designs were created for rifle, light machine gun, medium machine gun, and anti-aircraft defensive emplacements. The Air Ministry presented its own pillbox to protect airfields from paratroopers and airborne troops.
The basic designs were adapted for local conditions, meaning their height, size, and entrance location varied depending on the needs of the area. Pillboxes built into hillsides may not have had an embrasure on some walls, or there might be additional walls protecting the entrance.
The wall and roof thickness varied from 12 in to 3 ft 6 in (0.3 to 1.1 m), but the designs were often much thinner. Many pillboxes were cramped and uncomfortable, but Type 28 provided enough space for some home comforts.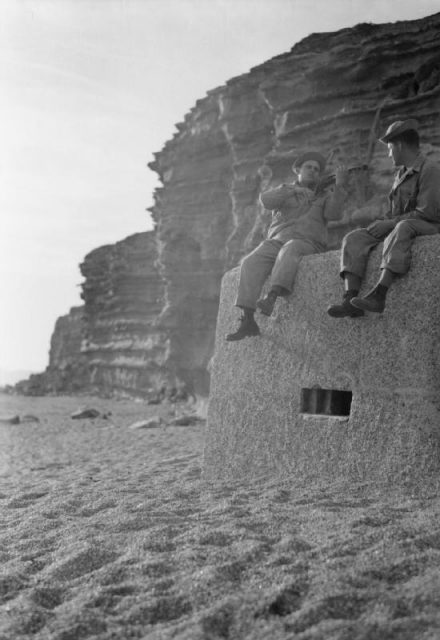 Despite the same basic design, the construction methods used resulted in them looking quite different. In some cases, bricks were used as formwork for the reinforced concrete, while other pillboxes used wood or corrugated iron as formwork.
Construction of the fortifications would make use of any materials local to the site. Expedient use of local materials had additional advantages, including easy resource access, accelerated construction, and camouflage which helped the defensive structures merge with the background.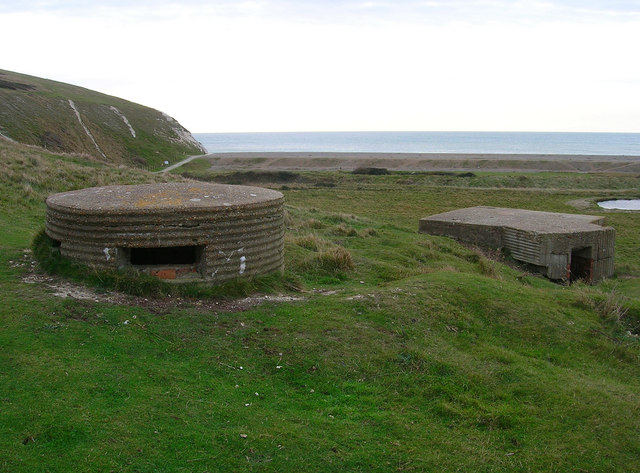 Additionally, the directive made recommendations on the concealment of bunkers and other field fortifications. Many fortifications were inserted into the side of a hill, buried in the ground, or had soil piled on the roof and sides to give the lowest possible profile.
Moreover, camouflage paint and nets were sometimes used to break the contour.
Some pillboxes were designed to resemble a completely different structure so that they would not look dangerous at first glance. There are frequent cases of partially masked pillboxes, or others that were supplied with a fictitious roof to conceal it from aircraft.
As a rule, the reinforced concrete used in construction consisted of thin steel reinforcing bars in the walls, roof, and floor that were fastened together. However, there are cases where of pillboxes constructed with scrap metal, such as as park railings or even bits of an old bed frame.
Local commanders were able to make changes to the pillboxes and sometimes introduced their own designs. New designs or design adjustments were often done to adapt them to local conditions.
Construction was mixed between small and limited productions and commercially produced structures.
It is worth noting that the British also used a small number of pillboxes built during the First World War.
A number of types of pillboxes are known thanks to the Defence of Britain database, submissions to the UK Pillbox Study Group, and records from County HERs.
The Type 22 pillbox is hexagonal with embrasures on five sides suitable for rifles and light machine guns. Each wall was 6 feet (1.8 m) long was 12 inches (30 cm) thick, although versions with walls that were 40 inches (1.0 m) thick are known.
The Type 23 pillbox is rectangular in shape and has a roof and open sides. The Type 23 had embrasures for rifles and machine guns in the covered section. The walls were 16 feet (4.9 m) long, 8 feet (2.4 m) wide, and had a standard thickness of 12 inches (30 cm).
The Type 24 is an irregular hexagonal shape. The rear wall was about 14 feet (4.3 m) long, while the other walls ranged from 7–8 feet (2.2–2.5 m). Each wall had an embrasure for rifles or light machine guns. The Type 24 had a bullet-proof standard thickness of 12 inches (30 cm), but this was often thicker.
The Type 25 is the only circular FW3 design, with a diameter of 8 feet (2.4 m), a wall thickness of 12 inches (30 cm), and three embrasures.
The Type 26 is a simple square, and generally had three embrasures for rifles and light machine guns. Each wall was 10 feet (3 m) long with a thickness of about 18 inches (46 cm).
Type 27 is octagonal and is the second largest of the FW3 designs. The wall length varied from 9 ft 9 in to 11 ft 6 in (3.0–3.5 m), with the outer walls having a thickness of 36 inches (91 cm). The outer walls had loopholes for rifles and machine guns and there was a central well for a light anti-aircraft position on the roof.
Type 28 is the only type that was designed to specifically have an anti-tank capability and was largest of the designs. The Type 28 was almost square with its forward-facing corners chamfered.
The walls were about 20 by 19 feet (6.1 by 5.8 meters) long and 42 inches (107 cm) thick, with a very large embrasure for either a 2-pounder anti-tank gun or a Hotchkiss 6pdr gun. There were also embrasures for rifles and light machine guns in the two side walls.
The Vickers machine gun pillbox was square with chamfering on its forward-facing corners. The walls were 14 feet (4.3 m) long and 36 inches (91 cm) thick. The Vickers machine gun pillbox had a large embrasure and a trapezoidal table for a machine gun. The other walls had an embrasure for rifles or light machine guns.
In addition to the listed pillboxes, many others had different parameters and purposes, such as the Eared pillbox, the Essex Lozenge, and the Cantilevered pillbox. In total, about fifty different field gun emplacement designs are known.
The overwhelming majority of the Britain's static defenses were destroyed, even before the end of the Second World War. Farmers received compensation for pillboxes constructed on their land, filling ditches and trenches, and even for destroying the pillboxes.
Read another story from us: How did Brits use allotments and 'grow your own' to survive two World Wars?
Over the years, erosion and modern construction have also destroyed many of the structures. It is now rare to find anything but the concrete remnants of the surviving pillboxes.
According to estimates from the study Pillboxes: A Study of UK Defences (1985) and the Defence of Britain Project, of the 28,000 pillboxes and other hardened fortifications that were built, only 6,500 still survive. Some of them have found a new use as large bat houses.