From years B.C. up to World War I, horses were vital frontline animals in almost any military conflict. As the foot soldiers punched fist first into their enemy, the cavalry would sweep around and cut them off from behind.
It wasn't until World War I, when the mechanization of modern warfare proved too much for any large scale animal-based assaults, that military leaders realized that the speed of a horse was no match for the bullets of a machine gun. Horses were still useful for the military in the first half of the 20th century, pulling carts and guns, as well as transporting commanding officers.
By the 1950s, horses were rarely used, having been almost entirely replaced by trucks and tanks. During the Korean War (1950-53), the use of horses was seen as entirely redundant.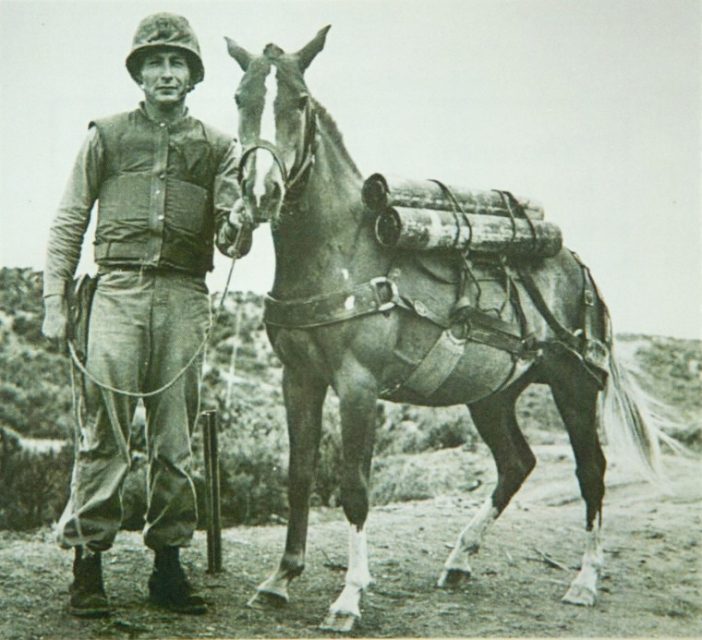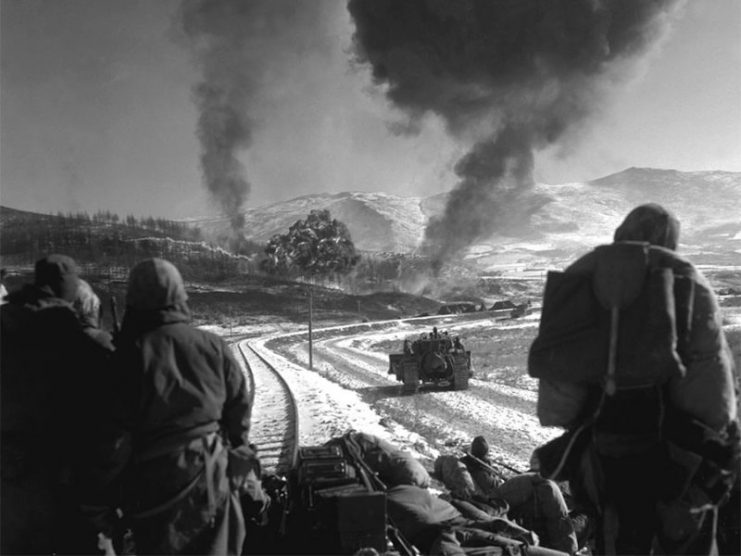 During the war, the Jeep CJ-2A was a commonly used vehicle that often carried the necessary heavy rounds of ammunition.
Despite being extremely capable, it would sometimes struggle in Korea's rough terrain and so the duty of transporting the heavy ammunition had to be passed onto the foot soldiers. Weighing roughly 24 pounds each, the shells used in the "recoiless rifle" had to be carried in twos or threes, strapped to the packs of the infantrymen.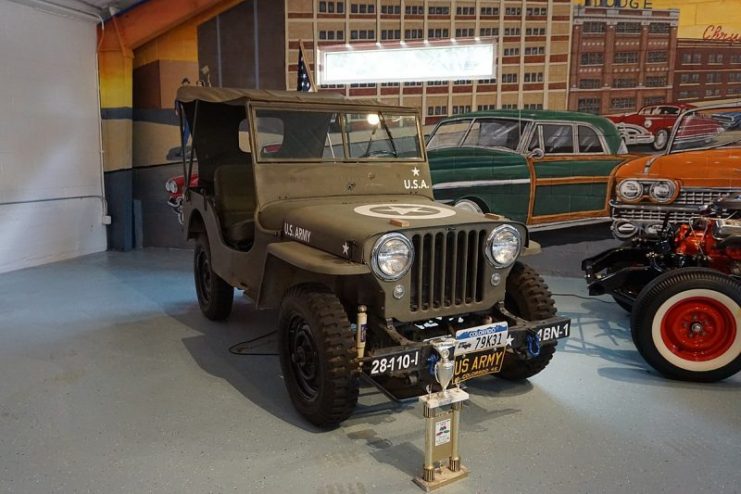 In October 1952, Lieutenant Eric Pedersen decided that a horse could help serve his platoon by carrying multiple shells for the launcher. He sought the permission of Colonel Eustace P. Smoak, who agreed.
Pedersen, along with Corporal Philip Carter of the Recoilless Rifle Platoon, 5th Marine Regiment, took a trailer into the South Korean capital of Seoul where they visited a racetrack. A 10-year-old Korean boy, known as "Kim Huk Moon" to the Americans, was there to sell his horse Ah Chim Hai, or "Morning Flame."
The boy was tearful and seemed reluctant to sell his chestnut-colored horse, but he was desperate to raise money for a leg prosthesis for his sister, the victim of a landmine.
Using his own money, Pedersen paid the boy $250—roughly $2,300 in 2019 money—out of his own pocket. It was ample money for young Kim Huk Moon, but it didn't stop him from crying as his beloved Morning Flame was led away.
And so "Flame" was brought into the care of the 5th Marines as they set about training her. They renamed her "Reckless," a play on the word "recoilless" in reference to the ammunition that she was set to carry, and also a nod to her platoon who saw themselves as real risk takers.
Gunnery Sergeant Joseph Latham took charge as her main carer and trainer, and he set about teaching Reckless the ways of war in what was dubbed her "hoof camp." Latham taught her to run for the nearest bunker at the shout of the word "incoming," showed her how to lie down when under fire, and demonstrated to her the risks of entanglement in barbed wire.
Reckless was known to eat anything, and food had to be hidden from her or else the men would find it gone. She would drink Coca-Cola and eat Hershey bars and, in the morning, a cup of coffee would accompany her scrambled eggs and pancakes.
One of Latham's main tasks was to familiarize Reckless with the loud bang of her platoon's weapon. The recoiless rifle—also known as the recoiless launcher or recoilless gun—is most easily comparable to the rocket launcher with regards to its general shape and damage caused.
The main differing aspect of the recoilless rifle is that the ammunition is propelled using conventional explosive instead of the rocket motor used in the rocket launcher.
As the name suggests, the rifle was designed to have a dramatically reduced recoil which was achieved by a fast release of gas from the opposing end of the weapon at the moment of firing to create a form of counterbalance. As a consequence, some projectile velocity was lost, although it still proved a very effective anti-tank weapon.
During Reckless' first experience of battle at Panmunjom-Vegas, also known as the Battle of Vegas Hill, she carried over 9,000 pounds of ammunition for her platoon and made 51 solo trips.
After five days, the battle came to an end as the Chinese-led forces halted their advance, claiming they had achieved their objective. Reckless was wounded twice by shrapnel and received her first official ranking as a corporal.
The war came to a close and Reckless was set to receive further promotions. In a formal ceremony in April 1954, the commander of the 1st Marine Division, Randolph M. Pate, gave Reckless the battlefield promotion of sergeant.
After being shipped back to the U.S. and arriving in San Francisco to be received by hundreds of spectators, Reckless was promoted once again to staff sergeant in a ceremony dedicated to her that included a 19-gun salute and a 1,700-Marine parade. For her wounds in the war, she received two Purple Hearts.
Read another story from us: Unusual Warriors – Animal Roles in the Military
The base of a statue of Reckless carrying shells and equipment, unveiled in Semper Fidelis Memorial Park at the National Museum of the Marine Corps in 2013, contains a lock of her mane.
After contracting arthritis, Staff Sergeant Reckless died from injuries she received after falling into a barbed wire fence in 1968 at the age of 19 or 20.