I'll say it right away: Robert Capa is not included in this list. He is undeniably one of the most influential combat photographers the world has ever seen and the likelihood is that you are already familiar with his work. If you're not, Google him. Oh, and whilst you're there, Google Don McCullin, too.
The list I have compiled is for those who have a fascination with war photography but struggle to name names. Chances are you have already seen much of these photographers' work. And it is surely sensible to assume that all other combat photographers have been influenced by one—if not all—of these people.
The Spanish Civil War saw a number of independent photographers who sold their work to publications around the world.
A good war photograph doesn't simply capture the action; it encapsulates a mood and tells a story. And in the words of Robert Capa: "If your pictures aren't good enough, you aren't close enough."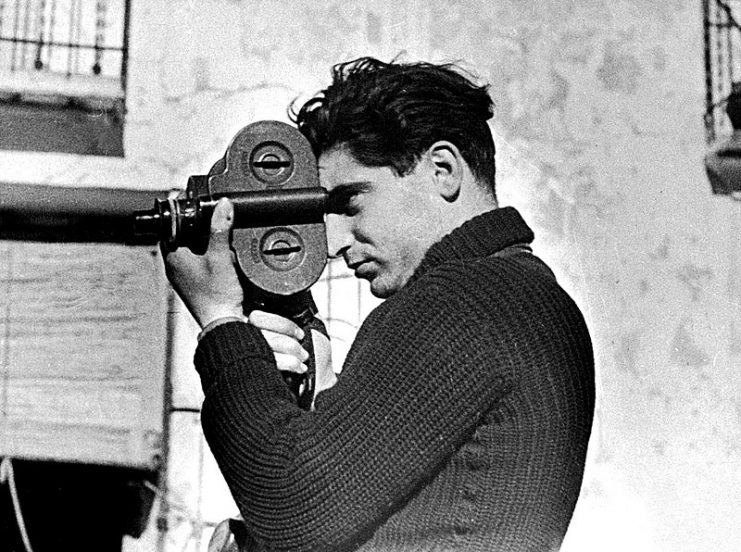 Roger Fenton
Speaking from experience, when we think of war photography, we think primarily of the 20th century. It turns out that even the American Civil War of 1861-65 was the fifth conflict in history to be photographed. The first was the Mexican-American War of 1846-48. Then it was the Crimean War, which is where Roger Fenton comes in.
In the past, Fenton's work in the Crimea has had him labeled as the first ever war photographer—a fact proven wrong by the photos of the Mexican-American war taken several years earlier.
However, the photographs of the Mexican-American war (which can be seen here: https://www.youtube.com/watch?v=NVRzWs8QJPY) did not capture combat in action nor the aftermath on the battlefields but, rather, portraits of soldiers and officers, parades, and men posing on horseback.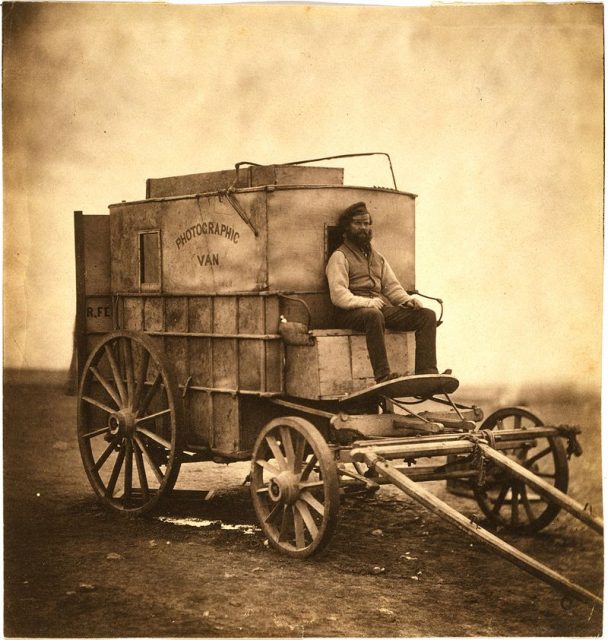 At the outbreak of the Crimean War, Roger Fenton was appointed as its official photographer by the British government and was therefore tasked with taking photographs which were deemed "acceptable." He naturally followed a trend set by the photography of the Mexican-American war: capturing perfectly framed portraits of soldiers and civilians behind the lines. He took roughly 360 images in total.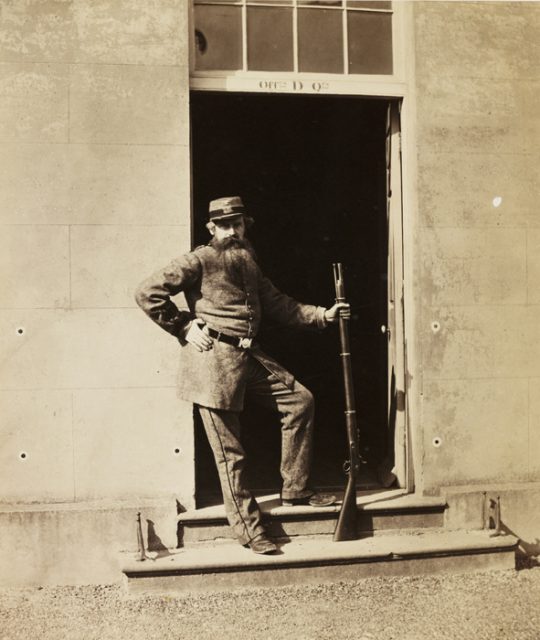 However, Fenton's remarkable achievement was in his eye for the "everyday" moments. Situations which, at the time, would have seemed average and mundane now show us a glimpse of humanity in a time when glory and victory were seemingly all that mattered.
His photo "A Quiet Day in the Mortar Battery" (1855) shows just that: two soldiers dozing off, whilst another leans against the mortar scratching his head, and a fourth peering over the sandbag wall towards the enemy.
Thanks to Roger Fenton, for the first time a soldier's loved ones back at home could catch a glimpse of what life was really like, instead of relying on newspaper reports and paintings that portrayed war as dictated by those who weren't there.
Ernest Brooks
Soldiers walking along a ridge, silhouetted by the sky. It is an iconic style and has been redone multiple times over the years by war photographers and film directors alike. Even Steven Spielberg and his team of directors couldn't resist using it in a shot in Band Of Brothers.
Well, that began with First World War photographer Ernest Brooks. Another Brit. And another official appointee of the British government. But war had changed since the days of Roger Fenton nearly 60 years earlier.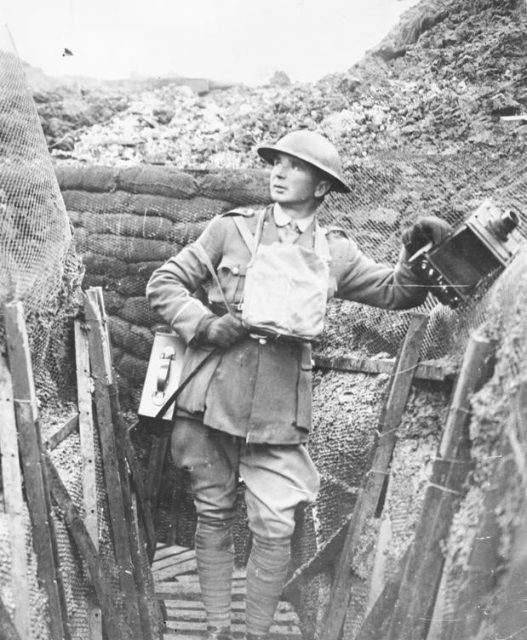 Less than a year after the outbreak of the war, on January 25, 1915 Brooks enlisted with the Royal Naval Volunteer Reserve. He was shipped out to Gallipoli where preparations for an assault were already underway.
Winston Churchill—the brain behind the beach landings—saw the importance of using photographers and journalists to cover the event. Brooks, already a photographer, was given official status as part of the Admiralty.
A year later, Brooks was shooting with an eye for detail. Although some of his photos of men at work behind the lines were staged in order to get the perfect shot, he forever insisted that his combat photos were never faked, reportedly saying that "we have strict instructions not to do so—we have never done it."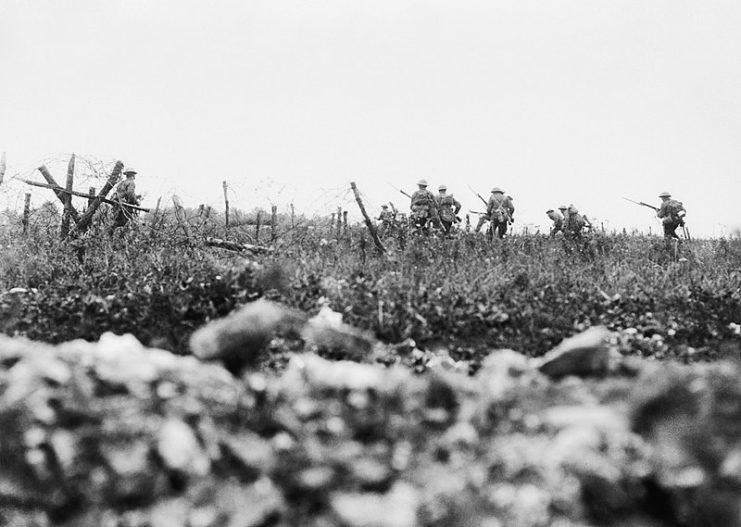 His photography of the Battle of the Somme is a testament to this resolution. Both the action shots and the aftermath of the battle gave the world a haunting glimpse of this new form of warfare.
Brooks was the only official photographer in the front lines during the opening days of the battle and his courage didn't end there. He later went on to film the offensive actions in Belgium, earning him the Belgian Order of the Crown. In 1918, he traveled to Italy to capture the land fighting and naval battles. For his actions, he was awarded the French Croix de Guerre.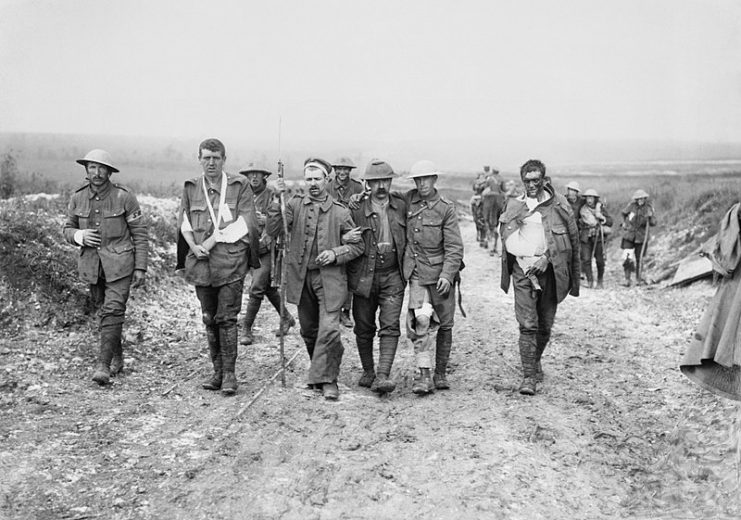 Ernest Brooks' legacy is demonstrated by its quantity. He covered all aspects of the war over the course of three and a half years and took over 4,400 photographs by the war's end. Today, his work makes up for more than 10% of all the war's official photographs.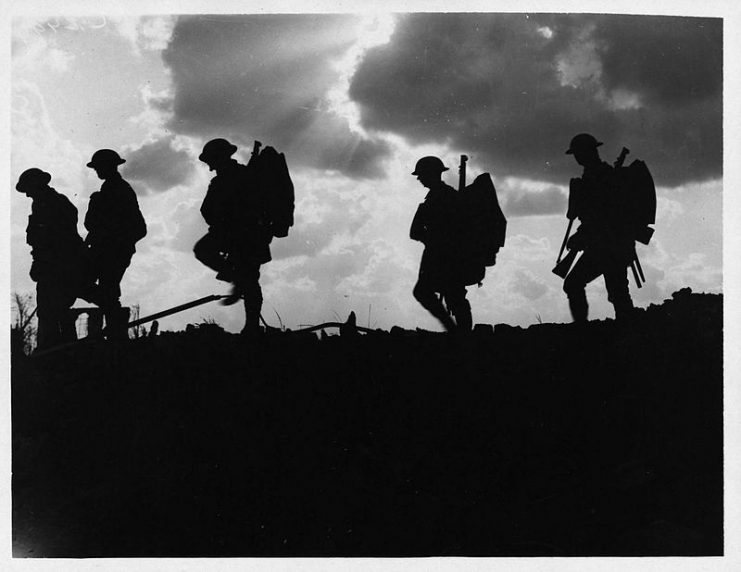 Gerda Taro
Gerda Taro was the first female war photographer to die in combat. Her coverage of the Spanish Civil War in the 1930s, coupled with her anti-fascist politics, positioned Taro as one of the first internationally recognized photographers who did not work for a government. In fact, the Spanish Civil War saw a number of independent photographers who sold their work to publications around the world.
Taro's freedom of expression can be seen in how she focused on the suffering of the Republican army, often casting her protagonists in a light of naturalistic glory. Her photography of the bombing of Valencia showed civilians who were dead or dying, often showing their wounds and suffering up close.
She formed a relationship with Robert Capa, who was also photographing the war in Spain. They worked closely together and there has been some debate on certain photos as to which of them actually took it. Their courage and skill evidently influenced one another and their close relationship is apparent in their work.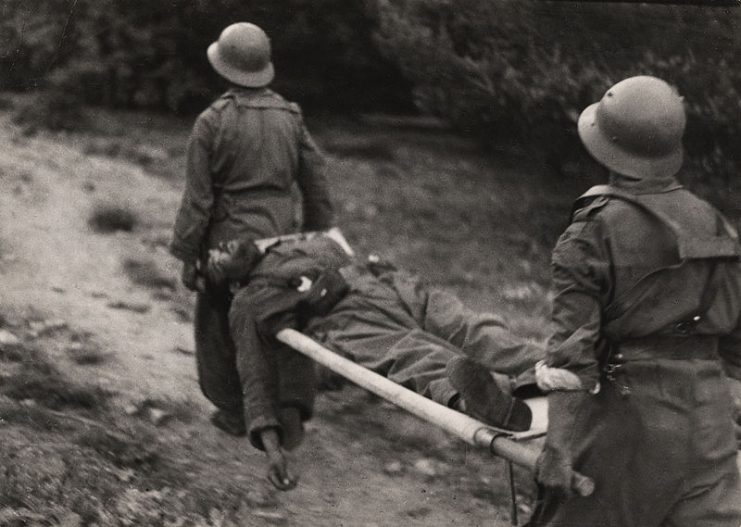 A few days before her 27th birthday, on July 26, 1937, Taro stepped up onto the footboard of a car to photograph the retreating Republican army and was unintentionally run over by a tank. The driver was unaware of what he had done.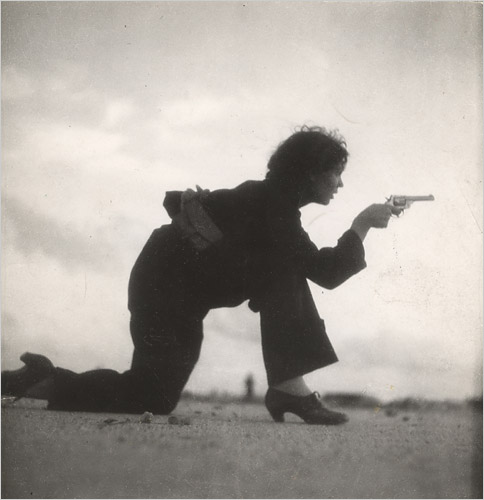 W. Eugene Smith
"A photo is a small voice, at best, but sometimes—just sometimes—one photograph or a group of them can lure our senses into awareness."
From 1943-45, W. Eugene Smith spent his time covering the Pacific theater of war for a number of publications including LIFE. He followed the American offensive as the action hopped from island to island. In an attempt to simulate battle conditions for a series of photographs, he was severely injured and spent the next two years in and out of surgery.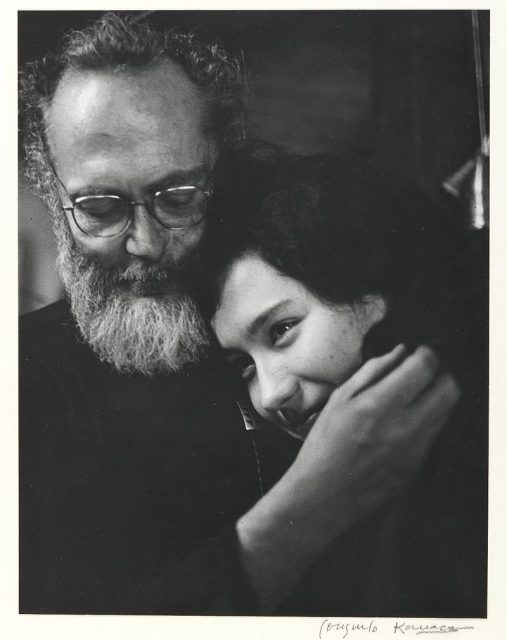 Smith became a photographer for Magnum Photos (set up by Robert Capa) in 1957. He took his humanistic style around the world, covering the people of Iran, Israel, the USA, and more. He was described by journalist Sean O'Hagan as "perhaps the single most important American photographer in the development of the editorial photo essay."
A biopic of his working life, called Minamata, is in the making, with Johnny Depp set to play Smith.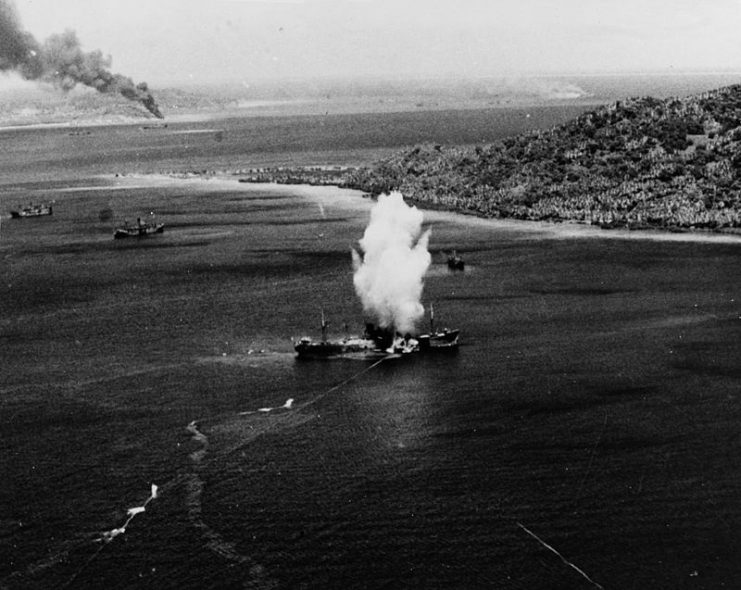 James Nachtwey
The most modern photographer in our list, James Nachtwey is still alive and continues to work—although, at the age of 71, his front line photography days seem to be behind him.
Nachtwey's list of experience is extensive. He has covered conflicts and social issues in South Africa, Latin America, the Middle East, Russia, Eastern Europe, and the former USSR. As a resident of New York, he was also able to photograph the September 11th, 2001 attacks and their aftermath.
Nachtwey's attitude towards his works has always been that they are a reminder of atrocity and suffering, and that they can serve as a way of stopping injustice from happening in the future.
During the United States' invasion of Iraq, Nachtwey was travelling in a Humvee with the US Army Survey Platoon and Time correspondent Michael Weisskopf when an insurgent threw a grenade into the vehicle. Weisskopf was able to pick up the grenade and throw it out of the window. The explosion injured a number of people, including the two journalists. They were airlifted to Germany and then to the United States where they recovered.
Read another story from us: How a Vietnam War Photographer Saved Marines by Jumping on a Grenade, Awarded the Medal of Honor Posthumously
Nachtwey has received numerous awards for his sensitive portrayal of conflict and its effects, including the prestigious Robert Capa Gold Medal which he has won five times.
The 2001 documentary film War Photographer details Nachtwey's life up to that time. It is a fascinating film and I suggest that anybody who is interested in learning more about war photography should go and watch it.