Gander was a Newfoundland dog who was originally a family pet named Pal. When Pal accidentally scratched a child's face, the owner was concerned that he would have to have him put down.
Instead, he gave Pal to the Royal Rifles of Canada, a regiment of the Canadian Army stationed at Gander International Airport, Newfoundland and Labrador.
The soldiers renamed him Gander and promoted him to sergeant. Sgt. Gander went with the regiment when they shipped off to Hong Kong in the fall of 1941.
The Battle of Hong Kong started on December 8, 1941, the day following Pearl Harbor. Gander helped fight the Japanese on three occasions. On the last time, he picked up a hand grenade and ran toward the enemy with it. The explosion killed Gander but saved the lives of several wounded Canadian soldiers.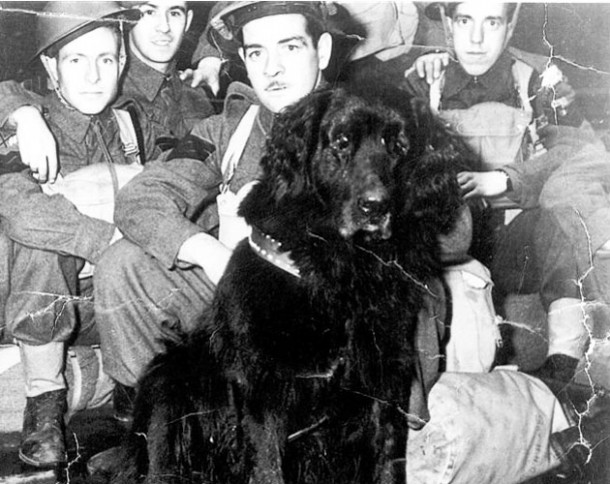 The Canadian War Museum, the Hong Kong Veterans Association, and the Hong Kong Veterans Commemorative Association all lobbied for the People's Dispensary for Sick Animals to award Gander with the Dickin Medal, the "animals' VC." The organization issued the award to Gander on October 27, 2000. It was the first time the award had been issued since 1949.
The citation reads as follows:
For saving the lives of Canadian infantrymen during the Battle of Lye Mun on Hong Kong Island in December 1941. 
On three documented occasions, Gander, the Newfoundland mascot of The Royal Rifles of Canada, engaged the enemy as his regiment joined The Winnipeg Grenadiers, members of Battalion Headquarters "C" Force and other Commonwealth troops in their courageous defence of the island. 
Twice Gander's attacks halted the enemy's advance and protected groups of wounded soldiers. In a final act of bravery, the war dog was killed in action gathering a grenade. Without Gander's intervention, many more lives would have been lost in the assault.
Survivors insisted that Gander's name be included with the 1975 men and two women on the Hong Kong Veterans Memorial Wall in Ottawa, Canada.
The Dickin Medal is often considered the animal's equivalent of the Victoria Cross.