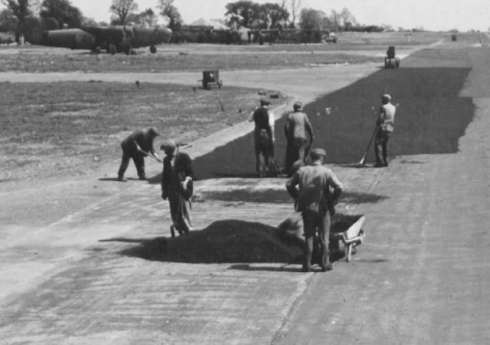 The "friendly invasion" which transformed the East Anglian landscape during the Second World War will be celebrated at a public history event near Dereham – the first in a three-year project.
Tar macadam surfacing on perimeter track at Shipdham airdeome. Date: 13 May 1943. Shipdham airfield. Pictured: Photo: Supplied
In the months after America entered the conflict in December 1941, nearly 70 airfields were built between Northamptonshire and Norfolk's North Sea coast, each with up to 4,000 people living on them. And it is the story of those servicemen and women of the USAAF 8th Air Force – and their impact on the local communities which welcomed them – which will be told by the Eighth in the East project reports edp24.co.uk
The three-year regional programme of archaeology, oral history and museum development is supported by a £575,000 grant from the Heritage Lottery Fund (HLF) and is being run by Suffolk-based social enterprise, New Heritage Solutions CIC. Their first community history event will be held on Saturday in Shipdham, the wartime home of the "Flying Eightballs".
Shipdham airfield. Pictured: Ground maintenance crew of the 44th BG pose beside a consolidated b24 at Shpdham. Date: 21 Apr 1944. Photo: Supplied
Films from the East Anglian Film Archive's mobile unit will be shown, while the archaeology team from the Norfolk Historic Environment Service, based at nearby Gressenhall, will also be on hand to provide some fun for youngsters with a "mini-dig". Project manager David Cain said: "This is public history in every sense and we want people of all ages to help us record and celebrate the momentous events that took place in the East of England between 1942 and 1945."
Project director Nick Patrick added: "History can offer so much to community life by bringing people together, helping to develop skills and providing an opportunity for people to visit. We want everyone to feel that this is their heritage; to get involved and help us support the work that's going on to preserve this epic story." Everyone who attends the community day will be given the opportunity to help the project, either by sharing stories or working on airfield archaeology, oral history recording, even helping run a small airfield museum.
Working with local museum partners volunteers will record memories, upload photographs, join archaeological exercises and take part in a series of community events and other themed activities. The Eighth in the East team will be at the Shipdham WI Hall on High Street from 10am to 3pm on Saturday, February 22. For more information about the project, see www.8theast.org.
Are you involved in preserving wartime heritage? Contact newsdesk@archant.co.uk.