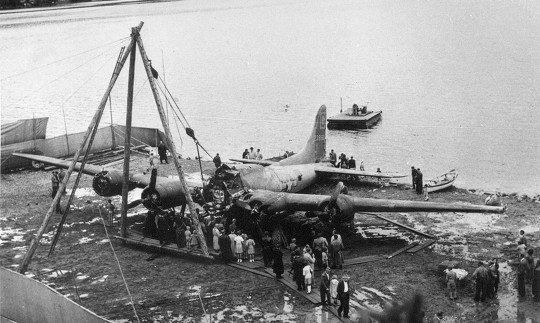 "A little known chapter of WWII is how the 160 American bombers that landed or crashed in Switzerland were repaired and returned to the U.K. I was a witness to this story and to the heroism and ingenuity of a small group of men led by Lt. Col. Ralph DePaola assigned to get the planes in flying condition for return. I met Col DePaola in Zurich in December 1944 shortly before he went to Dubendorf to begin the task of repairing 80 percent of these bombers to make them operational for return to Burtonwood, England. I was in his office in a bank building on the Bahnhofstrasse in mid December 1944 and conferred with him about this enormous task.
Our bomber, a B24 Liberator that we had landed at Dubendorf in April of 1944, was among them. I was a radio operator and gunner in the crew of Lt. Rockford C. Griffith and our Liberator was on a bombing mission to a key German airbase at Lechfeld in Augsburg, Germany when hit by flak and fighters we were forced to seek safe haven in Switzerland.  The date was 13 April 1944. We had a very close call.  I met at Dubendorf with the Swiss military and was taken as an internee and shipped to Adelboden and later to Wengen until I escaped to France in late December 1944. At Dubendorf we were interrogated by Swiss military intelligence for what we knew of the bombing of Schaffhausen on 1 April 1944. of course we told them little and we knew little of this bombing.
The entire episode of how these planes were returned is related in Roy Thomas book Heaven, Haven or heck published in 1994. 
The Swiss government was paid millions of Swiss francs for the repairs and for the storage of these aircraft based on a complicated formula of the number of hours spent repairing each of the bombers. The Swiss government was also paid for each American internee so much per day for each day of their internment.  These figures were negotiated between the Swiss government and the U.S. in the final weeks of the war and the final payments were made in 1946-47. The total charges came to slightly less than 2 million Swiss francs. In addition the Swiss were paid reparations for bombing of their territory by U.S. bombers during the war. 
The entire incident took many months and hundreds of work hours to complete. A few of the bombers had to be scrapped and a very few found their way into the Swiss Air Force for use in the post war years. However, it is a testimonial to the workmanship of the Americans that 9 our of 10 of the bombers did return to Burtonwood.  A few were scrapped.
I returned to Dubendorf in 1987 to see the displays of the American bombers, B17s and B24s that crashed or landed there in 1943-45.  The Swiss Air Force Museum there has a rather complete display and historical archive of this episode of WWII.  The Swiss Internee Association has memorials in Adelboden, Munsingen and Davos to the appoximately 1,500 American airmen who were interned in Switzerland in WWII.  More than 250 aircraft crashed or made emergency landings in Switzerland during the Second World War. The authors of a photo book about the planes and the young men who flew them have collected a wealth of information – and would be grateful for any more. "Children were usually first on the scene to welcome the crews," Dani Egger told swissinfo.ch. "All the boys and girls from town would run to the bomber – they'd never seen a plane that big."
At 51, Egger is too young to have experienced the war directly. His first memory of a so-called warbird, a vintage military aircraft, is of the Boeing B-17 Flying Fortress – with its 32-metre wingspan – displayed near a railway station in St Gallen for a few years in the 1960s.   "Whenever I went by train to St Gallen with my mother and brother, we always saw the big airplane standing there. About 25 years later, I remembered this and began to do some research and discovered its sad story."
B-17 Flying Fortress
One Allied bombing mission in March 16, 1944 – targeting the southern German cities of Augsburg, Ulm and Friedrichshafen – involved 740 planes. Of these, 23 didn't return to base: seven went down in Switzerland (four made emergency landings and three crashed).
One of them, a Boeing B-17 Flying Fortress, was hit by German fighters over Augsburg so it headed to Switzerland, where it ditched in Lake Zug. One crew member died, but nine managed to parachute to safety, spending the rest of the war interned in Switzerland.The plane sank largely intact to the bottom of the lake, where it stayed until 1952, when it was raised, restored and exhibited around the country. In 1966, it travelled to St Gallen, where a businessman planned to build a "bomber theme park". This never materialised, so in 1970 the plane went on display in St Moritz. But after a few years it was blocking a building development; since no buyer could be found, it was turned into scrap metal despite being of historical value.
The Flying Fortress was the last surviving bomber which had landed in Switzerland during the Second World War…
Continued on page 2….