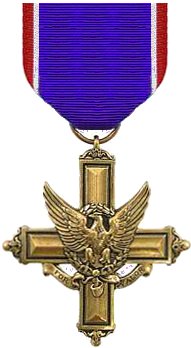 Just before dawn, they were attacked outside Gernsheim. Unable to pinpoint the enemy, Chilson set fire to a horse-drawn ammunition wagon. He sent it toward where he thought the shots were coming from. He was right.
As the men ran, he gunned them down. Later that day, he attacked more German positions with grenades, killing five and forcing another 41 to surrender.
The Thunderbirds were again attacked outside Horsenthal on March 31. Chilson and two others ran through enemy fire and hopped into a tank. With one firing and another driving, he stuck his upper half out so he could direct the shots – making himself a perfect target. That earned him a Bronze Star.
April 25, Meilenholen, more flak. Chilson ran ahead of his men, hopped onto a jeep, drove down the main road with one hand while firing away with his machine gun. Result – about 40 dead Germans, two ruined flak guns, and two damaged 88 mm howitzers. That earned him his second DSC.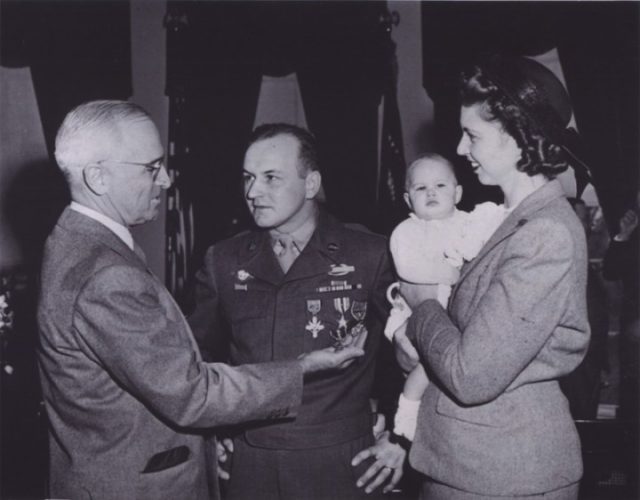 Later that day, the Thunderbirds found another American battalion trying to storm the village of Zell. Impatient, Chilson found a motorcycle, drove it toward a machine gun nest, and had the bike shot out from under him. Not before he got close enough to take out three gunners with a grenade – earning him his third DSC.
April 27 – Neuberg. Flak was coming from the second story window of an apartment building, so Chilson ran toward it through a hail of bullets. His grenade took out two gunners, convinced another eight to surrender, and got him another DSC.
More flak came from another apartment into the courtyard outside. Chilson chucked a white phosphorous grenade out the window, rushed back down, dashed across the smoke-filled courtyard, and fired at the upstairs window.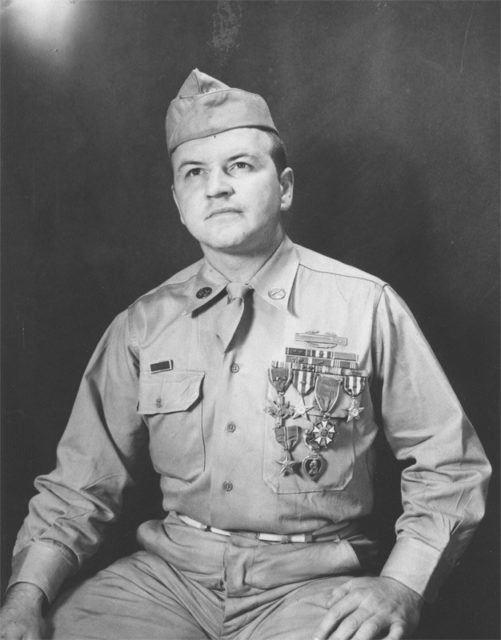 Although the Germans could not see him, this time they shot Chilson in the arm. He did not even slow down. He made it into the building, killed another two, and fired at the third. Nothing! He had run out of ammo. He brained the guy, took another seven captives, rejoined his men, and passed out – hello, second Purple Heart!
On December 6, 1946, President Harry S. Truman pinned seven medals on Chilson, turned to the press and said, ""This is the most remarkable list of citations I have ever seen… These ought to be worth a Medal of Honor."
The Awards Board disagreed.