New on Discovery Channel: Combat Dealers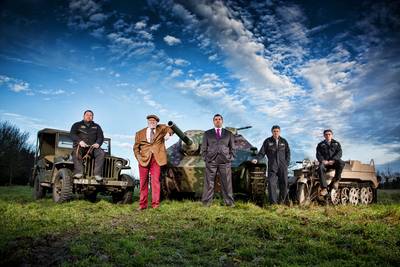 Military wheeler-dealer Bruce Crompton is a master of finding military memorabilia of all shapes and sizes. In the first episode of this fascinating series, Bruce publicly swims a German Army vehicle called a Schwimmwagen and goes on the hunt for one abandoned in Normandy, as well as a beast of a wartime Harley Davidson.
Next up, Bruce wants to bag himself a mega-rich customer in the form of Russian Oligarch Slava; one of the biggest collectors in the business. Plus, Bruce rises to a challenge to do a D-Day parachute jump in Normandy and finds a British Army armoured car called a Dingo and an American Willy's jeep. Find out just how many wartime treasures exist today and how much care it takes to restore and collect them.
http://press.discovery.com/emea/dsc/programs/combat-dealers/