The 1930s were an age of aeronautical experimentation. All around the world air forces were trying new and fascinating designs, searching for the perfect combination of deadly force, ease of use, and affordability. During this period the Supermarine Spitfire, Messerschmitt BF-109, and Mitsubishi A6M- Zero were all developed. But at Boulton Paul Aircraft, a slightly different style of fighter was being tested.
The Boulton Paul Defiant was first flown in 1937, and represented an interesting take on the single engine fighter. The Defiant had two seats, a pilot and a rear facing gunner. It was believed that bomber formations would be able to attack England unescorted, so a normal forward firing fighter plane wouldn't be needed. Defiant crews would be able to attack the bombers from angles out of the reach of their defensive guns, hitting their unprotected bottoms or sides.
In hindsight, this approach clearly seems flawed, but at the time it wasn't so far fetched. The British knew that another large war might come, and that large-scale bombing was likely. The RAF had done extensive testing with their bombers, and it was clear that a well-organized and tight bomber formation could defend itself against a conventional fighter attack. The Defiant was designed to remove this advantage.
Most bombers of the period didn't have downward facing turrets, and it was thought that a fighter with a powered turret could get beneath the enemy formation and fire up. The Defiant, also, wasn't the only plane to take up this approach, during the First World War the Bristol F.2 saw some success, and in the 1930s the Hawker Demon biplane showed that the concept worked, at least in tests.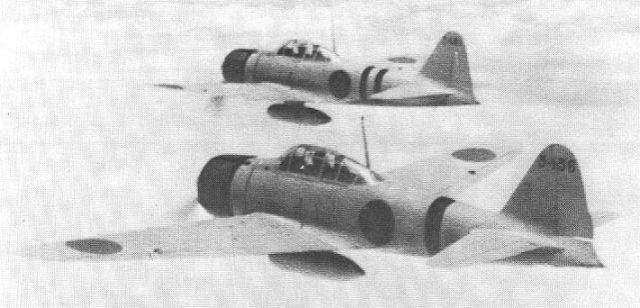 On September 1st, 1939, Germany invaded Poland, starting the Second World War in Europe. The British expeditionary force rushed across the channel to defend France from the expected German invasion. Supporting them were the first operational Defiants, from No. 264 Squadron, RAF.
No. 264 was formed in October of 1939 and they were immediately given the Defiant. Made up of fighter pilots, the squadron needed to develop new tactics for using this fairly unique airframe. They spent the next few months testing, retesting, and finalizing guidelines on how to use the aircraft in combat. They developed two main strategies.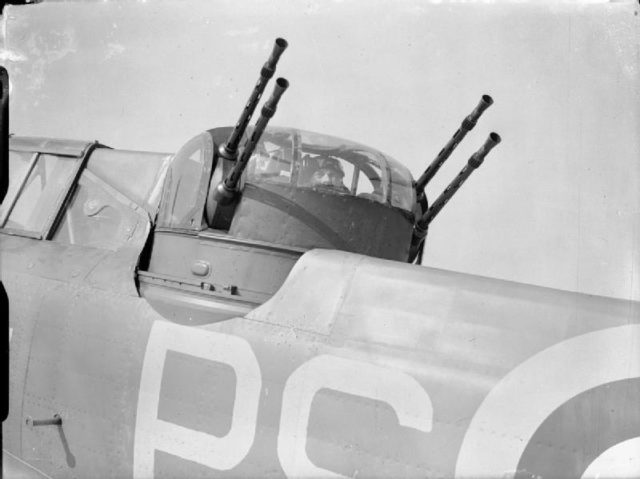 For attacking bombers, hit them when they are most vulnerable, pulling out of a bombing run. They'll be less organized, either in a turn or a climb, and focusing on getting out of the area alive rather than maintaining a tight defensive formation.
For fighters, the squadron used what's called a Lufberry Circle. Essentially, the flight of Defiants would all bank, and turn one after another, creating a massive circle of aircraft. This allowed them to utilize their turrets to defend one another, with a 360-degree arc of fire against anything which might approach. They would also slowly descend in this formation, preventing the Germans from coming at them from below.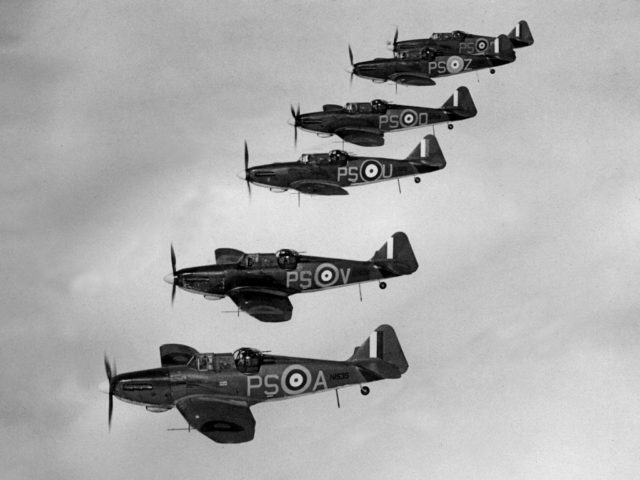 No. 264 saw initial success, their first combat came on 12th May 1940 when they shot down a Ju-88 over Holland. For the next 17 days the squadron acted offensively, running sorties against the advancing German bomber and fighter formations. The squadron then saw its most successful day of the war.
On 29th May, 1940, Defiants from No. 264 Squadron, were supporting the British retreat from Dunkirk. Employing the tactics they had developed over the past few months they were able to score a whopping 37 victories, with the loss of only a single turret gunner. They shot down 19 Ju-87 dive bombers, 9 Bf-110s twin engine fighters, 8 Bf-109 fighters, and 1 Ju-88 medium bomber. This high victory claim has been questioned though, as there were often multiple claims on the same aircraft.