Jones finally realized the mess he had gotten himself into. He still couldn't understand why none had tried to shoot back, but decided to see how far he could go.
Fighting to keep a stern face, he asked if any of them spoke English. One said he could, so Jones gave the man a choice – be a POW or be shot. Surprisingly, the three chose the former option.
Jones herded them into a hollow, then ordered the English-speaker to go into the next dugout to give them the same choice.
"Well!?" he demanded after a brief exchange.
"I don't know," the German replied, shaking his head.
"What if I throw a bomb inside!?"
Miraculously, those inside had a change of heart.
Jones ordered them to come out one-by-one and without any equipment. Fifteen did so and were sent to the hollow. To make sure the dugout was indeed empty, he chucked a bomb in. This was repeated with the remaining eight or nine other dugouts.
Once all the men were back out in the trench, Jones allowed them to retrieve their coats, but only in groups of two. Only when they had come out could the next pair go in.
It was during one of these coat-retrievals that one ran. Jones shot him, then turned to the rest, asking if anyone else wanted a bullet-sandwich.
They were all sitting on the trench floor, but seeing their comrade shot, they all jumped up and waved their hands in the air, screaming, "Kamarad!"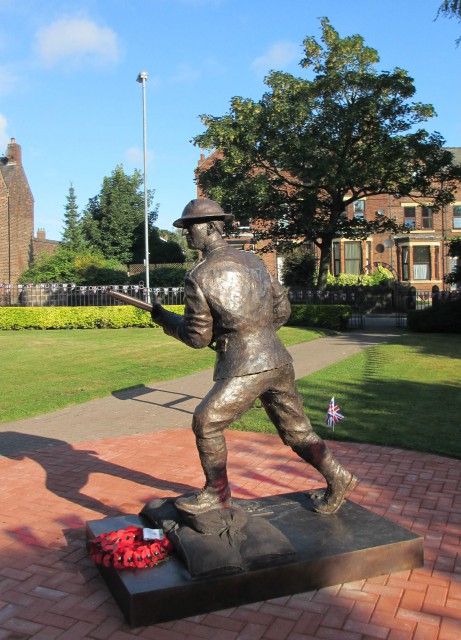 That's when Jones finally lost it and began laughing his head off.
Finally catching his breath, he began wondering what to do next – but he needn't have worried. After other British soldiers saw the German being shot from a German trench, they sent a man over to investigate. That's when more came over to relieve him.
Returning to the British line required running through a gauntlet of German fire, however, so not all made it. Officially, Jones captured 102 POWs, but he insisted that he initially took as many as 150.
On 3 August 2014, the town of Runcorn, Cheshire (where he was born) unveiled a statue commemorating his feat. With great amusement, they officially named it the Statue of Todger Jones.
Images used:
"Todger 5a" by Peter I. Vardy – Own work. Licensed under CC BY-SA 4.0 via Commons