31 BCE: Battle of Actium
The Battle of Actium was the closing engagement to decades of civil war for control of Rome. After Caesar was killed, his two most promising successors were his second in command Marc Antony, and his adopted son Octavian. The two competed, then worked together in a tense alliance to defeat those behind Caesar's assassination. After securing peace the two separated, with Antony ruling the wealthy east from Alexandria with Cleopatra, while Octavian had the poorer west though also the heart of Rome.
After much political tension, the two finally came to battle again. Antony brought a large navy and army reinforced by Cleopatra's ships to western Greece and fortified his positions and several towns along his supply route. It made for a doomed approach for Octavian's forces as Antony would look to wipe out the vulnerable transports.
Octavian's right-hand man, Agrippa, took a strike force well south around the fortifications to disrupt Antony's supply lines allowing for Octavian to land. Antony's force was soon stranded and starving and his position of strength turned to one of desperation as he now sought to simply escape.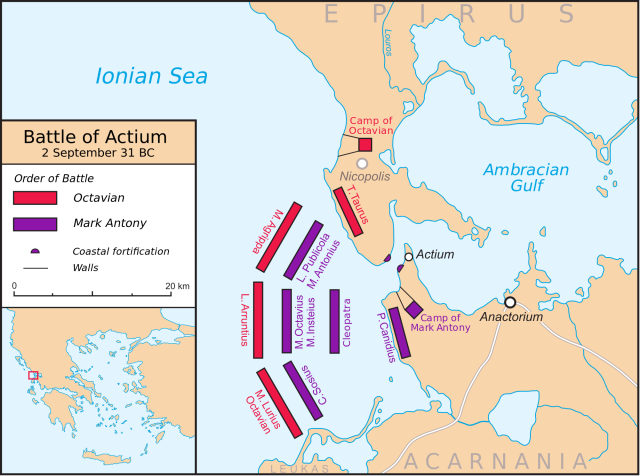 The ensuing battle was expertly planned by Agrippa, forcing the weakened navy of Antony to come to open water were a fierce struggle slowly dismantled Antony's larger fortified ships. As soon as Cleopatra found a gap in the lines she simply fled back to Egypt, with Antony close behind. The victory left Octavian as the most dominant leader left and through a swirl of political actions created the line of Emperors that would rule for centuries.
208 CE: Battle of Red Cliffs
The Chinese battle of the Red Cliffs is surely decisive though it should be noted that the historical record is inconsistent and heavily debated. Even so, Red Cliffs was possibly the largest naval engagement in history in terms of men involved. In the 3rd century China was ruled by warlords and one, in particular, Cao Cao, was particularly effective. He seized much of central China and by 207 had concluded a successful northern campaign. The only thing left was to defeat the recently allied warlords, Sun Quan and Liu Bei in southern China.
Cao Cao had vastly superior forces and defeated Liu Bei and even caught and destroyed a retreating land army. Cao Cao had placed a large naval force in the Yangtze river along with a large supporting army. His total forces were quite large with estimates ranging from 200-500,000 men.
After a short skirmish near a narrow area of the red cliffs, Cao Cao held a position in the more open water, though he was soon forced to chain his ships together as many of the men, especially the newly recruited impressed northerners, were easily seasick. Seeing this Liu Bei and the Southern commanders sent a false message to Cao Cao saying that some officers were on their way to defect to him. Rather than meeting them in a neutral location, Cao Cao expected them to immediately join his formation.
In reality, the Southerners sent several massive fire ships, loaded with hay and oil. A favorable wind slammed the ships into the massed chained together formation and the wind quickly spread the fire through the whole formation. The Southern allies quickly took advantage and sent several ships to destroy the remainder of the navy.
This battle proved to be decisive immediately as the large land army of Cao Cao, despite being strong enough to perhaps hold the ground, panicked at the sight of the burning fleet and fled. Many took routes through swampy lowlands and were killed or captured. Though Cao Cao still retained a great deal of power the battle would cement the south as an independent power and China would suffer from disunity for many more years.
Not every battle could be listed here. Some notable exclusions were the Battle of the Delta, where Rameses III defeated the Sea Peoples and secured the future of Egypt and the battle of Naulochus, just prior to Actium, perhaps an even bigger tactical victory by Agrippa over the remnant Pompeian faction, though not as decisive as Actium.
By William McLaughlin for War History Online