The Mareth Line, known as the Maginot Line, is located southeast of Mareth city in the governorate of Gabès. The site was once a fortification line, stretching from the Mediterranean coast to the 700m heights of Matmata – an Amazigh village in same governorate.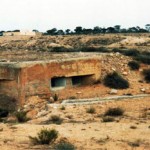 The reinforced trench is 45-35km long, and was built between 1936 and 1940 by the French army during World War II (WWII). The defensive line was constructed to thwart Italian incursions from Libya, an Italian colony at that time, into the French protectorate of Tunisia.
The trench was equipped with tank barriers, artillery casemates, and machine gun posts – all built with reinforced cement – and played an instrumental role during the military operations conducted in Tunisia during the Second World War. Named after the French Minister of War André Maginot, the line fell under the control of the Axis forces led by Erwin Rommel, commander of a German armored tank division dispatched to aid Italian forces in Libya. Rommel used the Mareth line to block the Allies from their eastern advance in 1943.
A grocer living in Mareth, who wished to remain anonymous, said that his grandmother was a living witness to this period of history. She told him that WWII was commonly known as Aam el-Harba, or the year of the escape, due to the numerous evacuations that were conducted during the conflict.
"The events inspired the imagination of folks at that time, and lots of heroic folk tales were told," he added.
The Ministry of National Defense has run a small museum since 1994 on the Mareth line, located adjacent to the riverbed of Wadi Zigzaou. The museum is comprised of five major halls as well as a video room that presents a timeline of major WWII events involving the Mareth Line. The presentation recalls the conflict's protagonists and the military tactics employed during the skirmishes that occurred along this famous North African front.
Each of museum's five halls has a particular focus: the military campaign in North Africa between November 1942 and February 1943, leaders of the Allied and Axis forces in Tunisia, a diagram of the Battle of Mareth, military operations in Tunisia from April 1942 to March 1943, and a display of WWII artillery. In the video room, guests are treated to a detailed short film on the battle of Mareth. Outside, visitors can still observe the…
Source and read more