He was shot down, hunted, and eluded his enemies by surviving on bugs and worse. Hollywood made a movie, and he sued the movie-makers.
Scott Francis O'Grady was born on October 12, 1965, in Brooklyn, New York City. His father, a member of the US Navy, took him on his first flight when he was six. From that moment on, O'Grady knew what career he wanted. It came at a price.
Serbs wanted their own republic and began purging minorities in 1992. The UN responded with a no-fly zone over Bosnia-Herzegovina to prevent aerial attacks on civilians.
NATO then backed this up with Operation Deny Flight. The Serbs retaliated by shooting down NATO planes. If they succeeded, they would sometimes vent their rage on surviving pilots.
O'Grady knew all this as he got ready for work on June 2, 1995. A member of the 555th Fighter Squadron, he was living in the Italian village of Aviano because of its air base – headquarters of the US Air Forces in Europe (USAFE).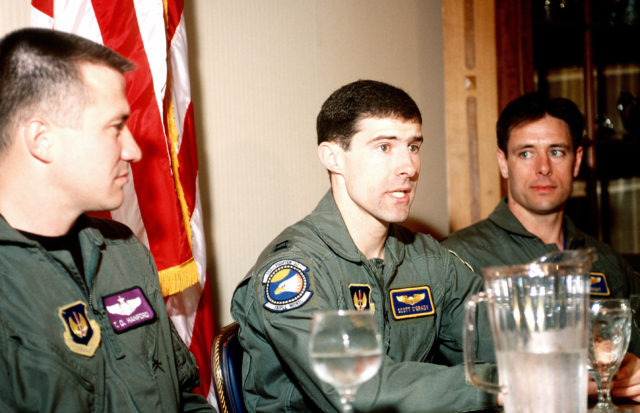 At 1:15 PM, he and Captain Robert Wright each took off in their F-16 Fighting Falcons. They reached Bosnian airspace thirty minutes later and began their patrol. Although the Serbs had surface-to-air missiles, F-16s carried a device that warned pilots if they were being tracked by radar. They were.
Down below, a Soviet 2K12 Kub, also known as an SA-6, was ready. Wright's radar alarm briefly went off at 2:50 PM, but NATO thought it was a false alarm.
That short radar signal had given the Serbs the planes' speed, heading, and altitude. They fired. Without radar guidance, the missile was invisible to the Americans. As soon as it matched their altitude, it exploded between them as they flew over a mile apart.
Altitude confirmed. The Serbs fired a second missile and briefly turned their radar on. It was enough.
The beam hit O'Grady's plane, then bounced down to the oncoming missile which honed in for the kill. With a top speed of over 1,864 miles an hour, it hit the F-16 within 10 seconds from launch.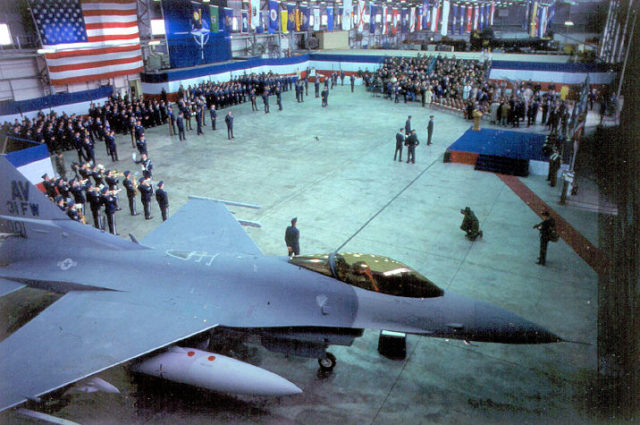 Wright saw it coming and tried to warn O'Grady – too late. The F-16 burst into flames, and he watched in horror as it plummeted.
O'Grady hit the eject button. Thanks to adrenaline, he did not realize his face and neck were burnt, but that was the least of his problems. His bright white, orange, green, and brown parachute was advertising his arrival over clear skies.
During the Bosnian War, it was not just the Serbian military who fought. There were also paramilitary groups and opportunists with far less discipline and even fewer scruples. O'Grady's best bet lay with the military.
It took him 25 minutes to descend, and sure enough, a truck was headed his way. From their mismatched clothing he guessed they were not military. Fortunately, as he reached the treeline, a strong wind blew him away from the road and deeper into the trees.