Hannibal Barca – he crossed the Alps with elephants, supposedly took a sworn oath to forever hate the Romans, and inflicted some of the worst defeats the Romans ever suffered on their own soil. He certainly ranks among the all-time greatest generals, and although many historians know the broad history of Hannibal, there are probably a lot of amazing details about the genius tactician that few people know about.
5. He lost an Eye Early in his Campaign Against Rome
Most statues and paintings of Hannibal do not show him with an eye-patch. Though those of him crossing the Alps are correct, many other later ones are not, as Hannibal lost vision in one eye after just the first major battle in Italy. After winning the battle of the Trebia River, Hannibal had two options.
He could proceed down the east coast of Italy, marching quickly and efficiently along dry, flat country, but would run into large and well-prepared Roman armies. His other option was taking a crossing of the Apennine Mountains that emptied into a massive swamp to surprise the Romans and take the battle to central Italy.
Hannibal chose the swamp route, much to the detriment of the men and animals. Hooves and feet rotted in the constant exposure to water over days of marching. The water was so evenly distributed that there wasn't a place to sleep, so when Hannibal got a nasty infection in his right eye, he simply bore it until dry land was found.
A few days later and the damage was irreversible, Hannibal suffered along with his men and took no special treatment. His eye-patch would be a constant reminder of this and he would continually win the respect and loyalty of his men.
4. He Rode on an Elephant
There are quite a few works of art depicting Hannibal on an elephant, but did he actually ride them? He most certainly did. Many of Hannibal's elephants were of the smaller African variety, though there seems to have been at least one large Asian elephant as well. This large elephant seemed to have been the mount of choice for Hannibal. The elephant was named Surus, meaning "The Syrian" and was missing a tusk.
Hannibal likely rode the elephant as a status symbol. He recruited mercenaries from Spain and Gaul. The Gauls were often fickle with their alliances, and so the impressive show of a commander riding in on a massive elephant would help ensure that they would give continued loyalty.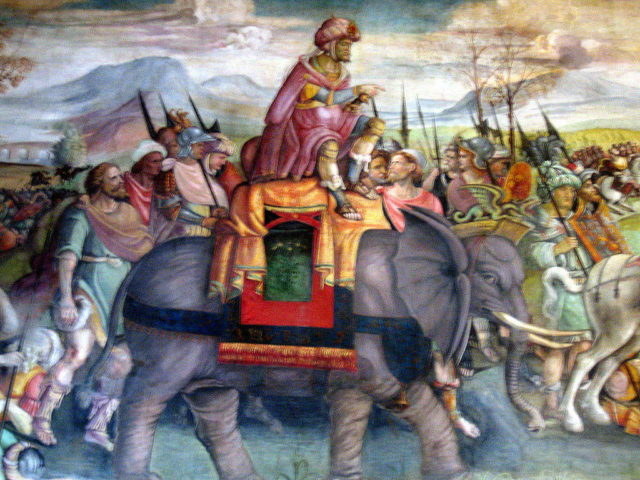 Hannibal rode the elephant through the swamps mentioned above and after he lost his eye he often rode into battle on his elephant to get a better view of the battlefield. At Cannae, especially, Hannibal was right behind his critically-positioned center, and his elevated view gave him the ability to send out precisely timed orders to his flanking units.
It is hard to tell how long Surus stayed alive as accounts of Hannibal's elephants are conflicting and heavily debated. Surus may have died in the very first winter in Italy, or maybe it (likely a female) traveled all through Italy and back to Africa with Hannibal.
As a side note, both Livy and Polybius describe an elaborate method used to get the elephants across the Rhone river before crossing the Alps. Hannibal supposedly decorated the great barges to look like an extension of the land, with trees and earth. He then led a female elephant to the barge, causing the males to follow.
This is somewhat represented in the article's cover image, though the reality was likely much more simple. Elephants are natural swimmers able to handle strong currents with ease. The elephants were probably just goaded to cross, though that may have required some special effort as well.