The Roman heavy infantry were now split between the wings, and the untested Spaniards took position in the center. Scipio ordered an attack before Hasdrubal had time to alter his deployment, and Scipio ordered the Spaniards to halt a short distance from Hasdrubal's center while the Roman infantry charged against the wings. By doing this Scipio had his best infantry, his Romans, fighting Hasdrubal's weaker wings while withholding his weakest Spanish mercenaries and preventing Hasdrubal's elite infantry center from engaging.
Had Hasdrubal ordered his center to charge, they would have instantly been vulnerable to flanking on all sides by Scipio's cavalry or the rear ranks of the Roman infantry, so they had no choice but to stay put. The Romans destroyed the flanks and collapsed towards the center and only after this were the Spaniards finally sent in to drive home the victory.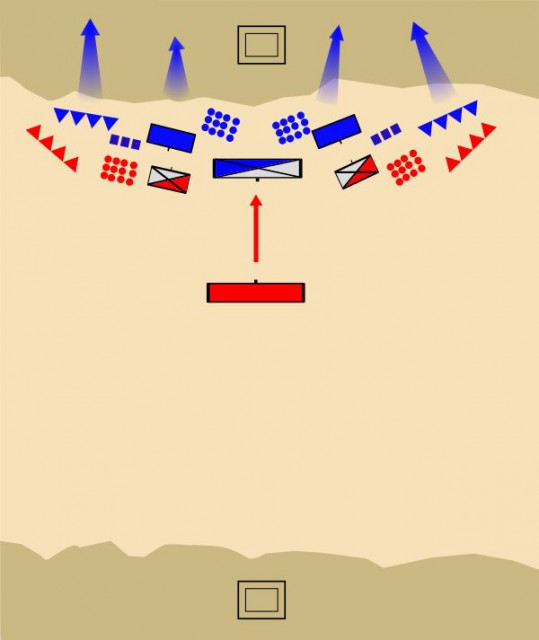 The subtle changing of formations often had great results, but it wasn't the only way to lead troops. Sometimes a general could lead by example. Alexander the Great was a young and fit general who did not shy away from danger. Alexander had excellent commanders under him and the stability of the phalanx allowed him to lead his companion cavalry and wield them like a scalpel on the battlefield.
By leading a cavalry contingent Alexander was able to have complete control of a mobile unit that allowed him to go directly to important places in a battle and he could lead his cavalry charges exactly how he wanted to rather than sending an order to a subordinate hoping that they would know the best moment to charge.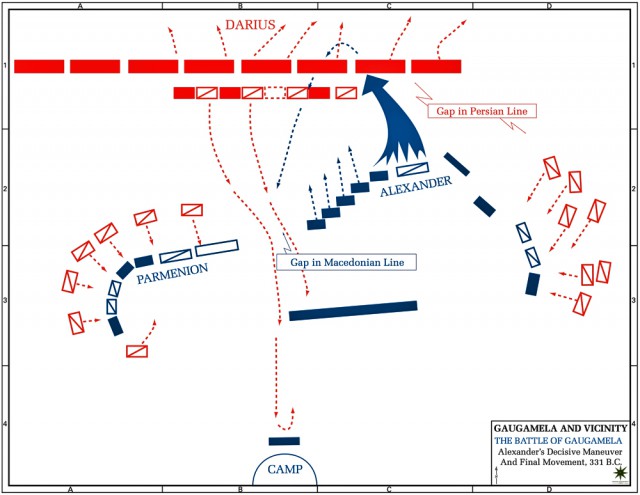 At Gaugamela Alexander rode across the battlefield with his cavalry causing Darius to send troops to engage him as Darius feared that Alexander would lead the battle to unfavorable ground. Darius' infantry left a gap when they moved to intercept Alexander and Alexander was able to turn and charge through this gap and attack the center of the Persian army, causing Darius to flee. By leading the charge himself Alexander ensured that his men would fight their hardest as their King was with them.
Alexander risked death at every battle and was wounded many times, but by fighting with his men, he ensured that they would fight to the death for him. This is not to devalue Alexander's other strengths as he was the most complete general of all time and his leading from the front was but one of his many leadership skills.
Darius, on the other hand, relied on common tactics such as picking the field of battle and arraying his troops in a standard array to try to achieve a straightforward victory.
Caesar also knew that leading by example was an important motivator. Though he was nearly fifty by the battle of Alesia, he still personally led a counterattack when the Gauls breached his double walls encircling Alesia. Caesar donned his scarlet general's cloak and was well seen by his troops. Seeing their general in the fight motivated the Romans and allowed them to push back the attackers.
These are but a few examples of how generals altered the standard methods of battle to get advantages in battles that were incredibly difficult to manage. These generals prevailed, but not every innovator was successful.