The Last Post ceremony at the Menin Gate in Ypres goes together with the town like strawberries and cream at Wimbledon. It's as ingrained into the town like the very footings of the buildings themselves. It's a mixture of remembrance and gratitude. A gift from the Belgian people to the British and Commonwealth troops who fought, died and in many cases disappeared along the salient that was Ypres. Much has been written about this act of thanks, some true, some not. But the fact remains that since 1929 apart from a short period when the Nazis took control of the town during WW2, (a feat the Germans never managed twenty odd years before) buglers have stood under The Menin Gate and played the last post. Every night, wind, rain snow or otherwise they've stood, at eight o'clock and played in this simple but short ceremony under the most iconic war memorial in the world.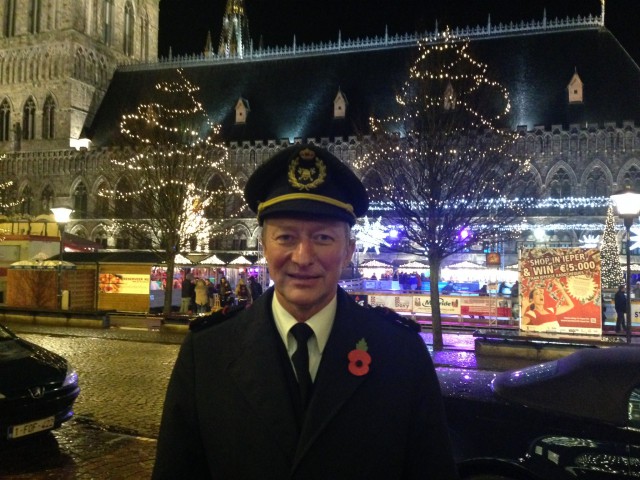 When I attended the ceremony earlier this month with my wife the roads were packed to bursting with locals, students, families and holidaymakers. There were veterans, historian and school children of all nationalities; cubs, scouts and even the occasional nun. It was busy to say the least. This was The Last Post in the centenary year of the First World War and the whole world seemed to be there.
The Ypres auxiliary fire service played the last post as it had done for decades previous. On the evening we attended, they were supported by colleagues from Wervik, a town on the border with France. It's an honour and a huge privilege to take part in the ceremony; it's humbling to watch no matter how many times you've seen it before.  I've seen it dozens of times and still get a lump in my throat each time I hear it played when I stand under the echoing memorial, it's even more humbling to meet one of the musicians, share a drink with them and get to ask a few questions.
Well, that's exactly what happened when I took the WHO flag and flew it high for all to see… Actually, there wasn't a flag and I had to rely on my poor grasp of the regional Flemish dialect (lucky for me most Belgians if not all speak English). I had one thing though. I had enthusiasm!
I met Lt Filipe Simoens of the Wervik Auxiliary Fire Service (LuitenantDienstchef to give him his official title) in a bar a few yards shy of the main square in Ypres treating his men to a well earned beer.. Or beers! They were celebrating a huge moment in their lives, something to take back to their own town. An honour they were sharing with their wives and girlfriends and children for the Wervik fire fighters had not only been the standard bearers for that night's ceremony but Simoens had laid a wreath of thanks at the gate, a first for him after nearly thirty-two years in the fire service.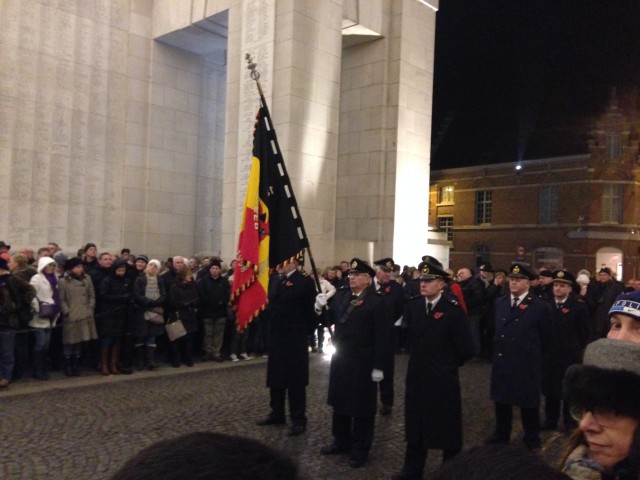 I found this amazing that such an honour had been such a long time coming but given the prestige of the occasion I wasn't totally surprised. Wervik has around fifty-three firefighters with a further eighteen from a nearby substation. All are volunteers. Those who don't have day jobs are either retired or are students, such as one young enthusiastic guy I was talking to whose English I must say was impeccable. He is and engineering student yet his dream was to be accepted into the Wervik team and ultimately parade at the Last Post Ceremony. If his energy and passion for a cause were anything to go by I'm sure he'll get his dream.
Filipe's merry band of men are far from amateurs though. He himself is a prolific Fire Service diver, a job, when you look at Belgium's many canals and rivers, that must be called upon quite frequently. Like most Belgians I'd met though he was very modest and quick to play his role down and to get back to the subject of The Great War.
I asked Filipe if he thought it was important to keep the 'flame alive' not just to the missing but to all who fought and died during the War.
"I feel it's very, very important to remind the younger generation of ALL countries about the sacrifice made by those in the First World War….. Especially here in Ypres and the surrounding areas"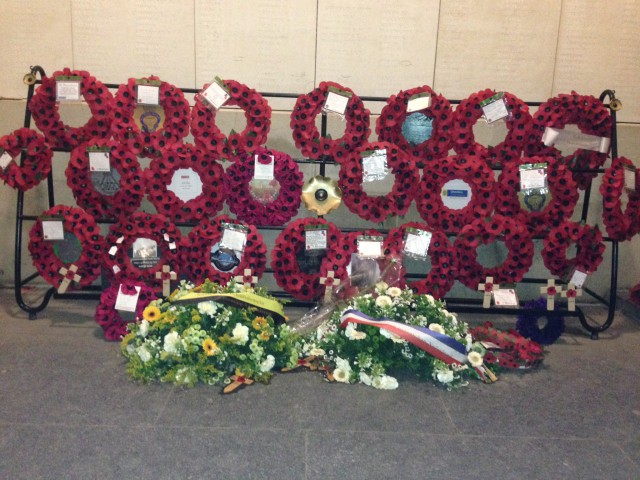 I was also keen to learn Filipe's views on the centenary of the First World War and the new and rejuvenated interest in the conflict.
"Being born and living close to Ypres, the Great War obviously played a huge part to the area and shaped it as it is today. From a very early age we're taught about the war and the sacrifice made by others on our soil. We're taught never to forget those whose blood was spilt in our land and those who never returned to their homes. The centenary and the new interest can only be a good thing to teach those who would otherwise pass the conflict by"
During WW1 Wervik was solely in German hands. One of its most notable 'residents' during the War was one Adolf Hitler, wounded in the Ypres Salient he was sent to a dressing station and then field hospital in the town of Wervik.I wondered if the feeling of sacrifice fell to both sides.
Continues on Page 2